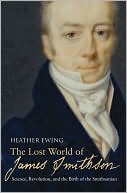 The Smithsonian, now the world's largest museum complex, was founded on this day in 1846. This was seventeen years after the British scientist James Smithson had died, leaving his fortune to his nephew. Smithson's will stipulated that if his nephew died without children, then the fortune should go to America, "to found at Washington, under the name of the Smithsonian Institution, an Establishment for the increase & diffusion of knowledge among men." The nephew died childless in 1836, but it took the American government a full decade to debate whether they could accept Smithson's money and what they might do with it.

Heather Ewing's The Lost World of James Smithson: Science, Revolution, and the Birth of the Smithsonian (2007) begins by explaining its title. Because all of Smithson's diaries and personal papers were destroyed in the 1865 fire that gutted portions of "The Castle," the primary museum building in Washington, D.C., he became an enigmatic and perhaps slandered figure:
In the absence of proof to the contrary, Smithson has been labeled an eccentric recluse; his science has been dismissed as dabbling and dilettantish, and the motivation behind his extraordinary request deemed ultimately unknowable. He lies now virtually forgotten, while his name, in the form of the Smithsonian, has become one of the most famous in the world. It seems a very long distance from the eighteenth-century English gentleman-scientist to the place known affectionately as the Nation's Attic, where American's iconic heritage is kept: the Star-Spangled Banner, the Spirit of St. Louis, Abraham Lincoln's top hat, and Dorothy's ruby slippers. I wondered if it might be possible to recover something of that lost world.
From the very first, government officials had wondered if Smithson, who had never set foot in America, "labored under some degree of mental aberration." In the Senate debate over whether to accept Smithson's money and, if so, what to do with it, some argued that the United States was no place "to raise foreigners to immortality," else "every Whippersnapper vagabond that had been traducing our country might think proper to have his name distinguished in the same way." But in the end, John Quincy Adams successfully argued that, as Smithson's name was the only string attached, the foundation of the Smithsonian was "an event in which I see the finger of Providence, compassing great results by incomprehensible means." 
---
Daybook is contributed by Steve King, who teaches in the English Department of Memorial University in St. John's, Newfoundland. His literary daybook began as a radio series syndicated nationally in Canada. He can be found online at todayinliterature.com.