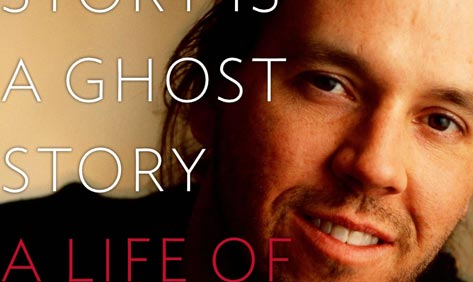 When David Foster Wallace published his 1,079-page novel, Infinite Jest, in 1996, its sprawling scale and heady mix of social satire and narrative experiment excited critics on the lookout for big works of fiction that could capture the hectic, omnidirectional feel of end-of-the-century culture. Wallace's ambitious take on the Great American Novel was not universally lauded: its infamous length, unconventional plotting, and liberal use of endnotes repelled many readers, and the book seemed to generate passionate advocates and detractors in equal measure.

In a tragically abbreviated life — cut short by suicide in 2008, when the writer was only forty-six — Wallace created so much heated opinion about his work that he proved an irresistible subject for New Yorker writer D. T. Max. As Max explains in his new biography of Wallace, Every Love Story Is a Ghost Story, Wallace's massive opus became a bellwether for writers: you could dislike it, but you could not ignore it. As Raymond Carver had been a game-changer for the short story, so Wallace became for the novel: "Infiinite Jest, for all its putative difficulty, cares about the reader, and if it denies him or a conventional ending, it doesn't do so out of malice; it does so out of concern, to provide a deeper palliative than realistic storytelling can, because…you have to work to get better," Max writes.

Some readers were exhilarated with the challenge of piecing together Wallace's expansive, fragmented vision of reality, while others disdained it as too cute by half. (The publication of the Wallace biography has rekindled some of the vitriol that Wallace attracted from Bret Easton Ellis, with the novelist taking to Twitter to rail against the perceived deification of Wallace since his suicide in 2008.)

In a conversation via email with the Barnes & Noble Review, Max talked about the complex relationships that Wallace had with Ellis and other contemporaries –including his friendships with Jonathan Franzen and Don DeLillo — alongside those with family and loved ones, and how those impacted an artist whose obsessions and neuroses were both the great subject of and the great obstacle to his work as a fiction writer, essayist, and teacher. —Cameron Martin

Barnes & Noble Review: You mention that you once had an opportunity to introduce yourself to David Foster Wallace at a gathering but felt too intimidated to approach him. When and why did you decide to write his biography? Were you a big fan of his writing before his death? Or were you more intrigued by the story of his life in retrospect?



D. T. Max: That line, about being intimidated, which was in the advanced reading copy, I actually cut from the finished book. It felt at once slightly off and too powerful. It required a long endnote I never wrote. But the sentiment remains true; he was intimidating. The event was the publishing party for Infinite Jest, held in 1996. After, David wrote to Don DeLillo: "It's the only Pub Party I've ever been to, and if God's in his heaven it will be my last."

I wrote the biography because after I published the long piece about David's death, "The Unfinished," in The New Yorker, in early 2009, I felt there was a lot I still didn't know and wanted to know. That piece was very tilted toward the inevitability of his suicide — not surprising, considering he had just died — but his friends and family kept talking about a much happier David I had missed. They wanted me to acknowledge the charming, loving young man they'd known. And I wanted to too.

Also, I was stunned by the response on the Web, especially from people, some of whom didn't really know David's work, to articles like mine. It was clear that David's life called out, invited, demanded something longer. Biography is quintessentially an act of trying to explain. I saw that we — they, I — all wanted to know more.

BNR: Discuss some of the surprises you encountered in your research, some of the misconceptions that perhaps fell by the wayside as you learned more about Wallace and his life. Readers, for instance, might be surprised to learn that he was rather conservative politically and voted for Ronald Reagan.

DTM: Definitely the votes for Reagan surprised — although by the time he wrote about John McCain in 2000 he voted for Bill Bradley in the Democratic primary. There's so much that surprised me about him. He contained multitudes. I didn't know he listened to the Irish singer Enya. I didn't know he was in a long patriarchal struggle with John Updike. I didn't know how difficult his relationships with women were. I didn't know how deeply involved he was in his 12-step program, how it gave him the daily strength to go on. Didn't know, didn't know — that was practically my koan as I did my research.

BNR: His relationship with his mother was particularly interesting, especially his wavering opinion that she was something of a frenemy. Even during periods when he was ostensibly estranged from her, he'd call on her grammatical expertise to resolve some issue he'd encountered in his writing. What was it about their relationship that left Wallace with such mixed feelings?

DTM: Sally Wallace was a strong presence, one David felt he had to work to free himself from. Remember, he was full of self-hatred, and at some point he began to ask whether she was responsible for what he saw as his failed self. That's the part of his life I chronicle, when he's in his early thirties and writing in the margins of books about how his mother had turned him into "a performer," perpetually hungry for praise. When David was older and happier he felt differently about her. He used to say he wished he'd had a worse childhood to explain how crazy he was.

BNR: The violence that Wallace sometimes exhibited, particularly in his relationship with poet and memoirist Mary Karr, seemed out of step with his public character. How do you reconcile or explain away these outbursts — for example, his half-baked plan to buy a gun and shoot Karr's husband — with the sensitive, reserved persona he conveyed to most people?

DTM: David had a lot of rage, no question about it, and that rage coexisted with a very gentle person, a very good listener, someone who felt things deeply. But to be fair to David he was never the one to state he was some sort of saint. On the contrary, anytime someone put him on a pedestal he tried to get back down. There's a wonderful letter he wrote to the novelist David Markson, who had just told him what a great guy he was, where he says, "I'm polite, but I'm not particularly nice. I can give references." I love that letter.

BNR: The title story of his first short story collection, "Girl with Curious Hair" (1989), appropriated the narrative voice of Less than Zero by Brett Easton Ellis, but Wallace "pushed the voice past where Ellis had taken it, moving it from the stylish into the gothic or repulsive." Wallace willingly acknowledged the influence of postmodern writers such as Thomas Pynchon and Don DeLillo, and yet when an editor asked him if he had read Less than Zero, Wallace said no. Why do you think that was?

DTM: But he wasn't really willing to acknowledge Pynchon's influence either. When an editor asked him if he'd read The Crying of Lot 49, he lied and said no. I think in truth all influence made him anxious. He had that kind of mind, it just attached itself to stuff and digested it until it was his. But he never knew if that was fair play or not. The New York Review of Books published a piece on him called "The Panic of Influence" by A. O. Scott. The title captures the issue perfectly.

BNR: Infinite Jest was published in February 1996 and "quickly became a totem for young people. The postmodernist heyday was long past; minimalism was in decline. There was a wide opening for Wallace's opaque sincerity." What do you mean by "opaque sincerity," which seems like something of a contradiction in terms, akin perhaps to "vague honesty." And where is this "opaque sincerity" best in evidence in Wallace's writing?

DTM: What I mean by the term is really just that David wears his heart on his sleeve, but it's on the inside of the sleeve. He wants to tell you exactly what he's feeling but life, language, culture, convention, his own brain get in the way. And the thing we want to express if we just expressed it in a straightforward way would only get us disliked — think of the Depressed Person in his story of that name, so honest about her feelings (banal feelings but still hers) that no one can bear to be with her. Think of all the love that's almost expressed in Infinite Jest. Or the way David slyly asks you to think about the sensations of the things we eat in Consider the Lobster. He knows to simply write, as the PETA representative does, "Being Boiled Hurts" would send the reader scurrying to the television, so he asks, "Is it all right to boil a sentient creature alive for our own gustatory pleasure?" It killed my love for lobster.

BNR: It's interesting you mention Wallace's concern that readers will put down a book and choose an alternative form of entertainment; namely, television. He had a surprising and abiding love of television, even if the relationship was often nagging and strained. Knowing Wallace, what do you think his attitude would have been toward Twitter? His 2008 death preceded the explosion of this form of social media/entertainment. Do you think he would have had a Twitter account, and would have used it to engage fans or strangers? Or perhaps even used it to write short stories or other experiments?

DTM: David existed for a long time alongside the Internet, and he was curiously uninterested in it. He told one friend he'd already seen enough advertisements for one lifetime. Twitter would not have interested him, but that's because what David was addicted to in television, I'm convinced, was narrative. He loved being there, inert, and watching other people interact on soap operas or sitcoms. He knew the people he was watching were acting, but I don't think he was sure how real his behavior was either. Twitter, Facebook — these were too fragmented for him. They didn't have the pulp he wanted to consume.

BNR: The biography includes a great deal of correspondence between Wallace and some of the leading literary lights of the last few decades, most notably his friends Jonathan Franzen and Don DeLillo. What influence do you think these relationships had on Wallace and his writing? He never finished another novel after the publications of Underworld (1999) and The Corrections (2001). Did the massive writing successes of his close friends impede his ability to complete The Pale King?

DTM: David was wary of other writers, and he was right to be. He was too competitive, too prone to comparison. Certainly the publication of all those big novels in those years — not just Underworld and The Corrections but also books by William Vollmann and Jeffrey Eugenides irked him. Franzen was his friend in a different way than DeLillo was. DeLillo was the father figure he admired without reserve — he even said DeLillo looked and sounded like his father — the guy he wished he could be, quietly turning out novel after novel with what seemed to Wallace like a minimum of angst. Franzen, by contrast, was the guy on the tennis team he was competing against for the first singles slot. In a letter to Franzen he calls him his "best of pals and lit combatants."

BNR: In describing Wallace's writing style, you write, "he was a folder-in and includer, a maximalist, someone who wanted to capture the everything of America." Who, among contemporary authors, is perhaps writing in a similar vein? And what's your personal assessment of Wallace's style of writing, which seems to generate equally strong opinions among fans and detractors?

DTM: I think he fits into a tradition that includes writers like William Vollmann and Jonathan Franzen, Richard Powers too, and from an earlier generation, maybe Hunter Thompson, you know writers who feel that the America they see is just so enormous and vast that, as Wallace writes in a letter to a friend that I quote, after he returns from trying to cover an adult porn awards event, he can't get the story down because "there's so much!" I think his style is addictive, masterful, beguiling. It does what all great styles do — James's, Salinger's — it convinces you it is the one and only way to see the world.

BNR: There's an unavoidable sadness in reading this biography with the knowledge that Wallace commits suicide after a change in medication precipitated major depression. What's his family's opinion about what transpired in his mental health treatment at the end of his life, and how things could perhaps have been different?

DTM: It is sad and nothing can really erase that sadness, a life of such brilliance cut short. My book doesn't erase it though perhaps it lends some understanding. I think each member of the family probably thinks different things about those last months, but David was such a force of nature I don't think anyone really thinks they could have persuaded him to stay on the drug that was keeping him alive, the Nardil, if he wanted to get off it. His personality was too big for that, as was his commitment to writing. And remember he just felt he wasn't writing well anymore and was desperate to figure out why. They just made way and hoped for the best.