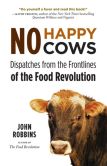 The first "Fannie Farmer Cookbook," officially titled The Boston Cooking-School Cookbook, was published on this day in 1896. In her Preface, Farmer hopes that her book will promote interest among Americans in "the study of foods and their dietetic value":
At the earnest solicitation of educators, pupils, and friends, I have been urged to prepare this book, and I trust it may be a help to many who need its aid. It is my wish that it may not only be looked upon as a compilation of tried and tested recipes, but that it may awaken an interest through its condensed scientific knowledge which will lead to deeper thought and broader study of what to eat.
Over a century later, Farmer might share the pessimistic assessment of contemporary American dietary habits offered by John Robbins in his recent No Happy Cows. Robbins attributes the current problem not to lack of food knowledge but to a "cultural trance" and to "political cowardice," which have combined to lead us away from "foods that are truly nutritious, affordable and produced in a sustainable way," and toward a medical and economic crisis: "We have the distinction of having become the fattest major nation in the history of the world and, with each passing year, we are becoming noticeably fatter."
---
Daybook is contributed by Steve King, who teaches in the English Department of Memorial University in St. John's, Newfoundland. His literary daybook began as a radio series syndicated nationally in Canada. He can be found online at todayinliterature.com.