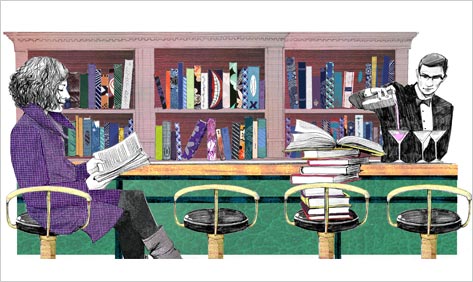 I never thought I wanted to be a parent, but as soon as I saw mile 36 of Route 127 in Trumbull, Connecticut, I knew it was meant to be. I started to picture a life filled with car rides and rest stops, gas stations and grassy medians — and it was all I could think about. I got the process started the very next day, and haven't looked back, not even in the side mirror of my 2003 Honda Accord. My highway — my responsibility — my legacy, for all of eternity, or at least until I stop paying the monthly premiums. I never imagined my life could be so full. Of vehicles.

His given name is the Huntington Turnpike, but I just call him Jason. Frankly, I don't even like to use the word adopted, because to me it's no different than if he was my biological highway. I dread the day he asks where he came from. It's not as if we're going to hide the fact that he's adopted, but I worry he's going to realize he's different before he's old enough to comprehend. After all, I'm not a highway — and his mother's only half-highway — so it's going to be pretty obvious. I just hope he understands that being adopted makes him special — out of hundreds of sections of road available on the city government website, he's the one we chose! And not a moment goes by that we regret it.

You grow up with fantasies in your head about what your highway will look like. Will he be like other highways? How many shoulders will he have? Will he be straight– or curvy? Of course I'd love him either way. I just want him to be happy, no matter what other roads he intersects with. Will he marry an interstate? Will our grandchildren be strip malls? The questions keep me up at night, as I'm cleaning up the trash that finds its way all over his body. I just hope he cleans up my trash when I get older — but I'm sure he will.

The lines on his face — yellow, and white — each tell a story. Of struggles, and traffic. His kindness to the animals that cross him — his forgiveness, his equanimity. It feels like a miracle that I was able to rescue him from his foster parents, Harry's Caskets of Route 127, who had held him for years but failed to appreciate his qualities or clear him of old tires and rusted hubcaps. They allowed his surface to fill with potholes and his soul to blacken like the asphalt that covers his body.

We saved him. With orange cones at his entrance and terminus we protected his body and gave him the time he needed to recover, traffic be damned. So what if there were miles of cars waiting in line to abuse him, honking their horns, calling the highway patrol to ask about the disturbed couple running across the highway with police tape, screaming that no one was going to be allowed to hurt Jason again? We stood up for him — the first time anyone had shown him such love — and he repaid us by cushioning the blow after the police used their tasers to subdue us.

But we'd do anything for Jason. Some people hire services to manage their highways, but we'd never outsource his care to a stranger. Why adopt a road if you're not ready to know it and nurture it? Jason wanted a dog for his birthday last year. And while all of our friends said he was too young, irresponsible, and paved, we thought we'd give it a chance, and let him have something to love just as much as we love him. We wanted to prove that we wouldn't put speed limits on our relationship. And now that dog runs back and forth over Jason all day, scavenging on whatever he can find.

Unfortunately, the state has taken Jason away. Apparently you can't let stray dogs loose on the highway. We went to court, we tried to fight it. But even though Harry's Caskets of Route 127 once again has its name on the sign, we still think of ourselves as his parents — and from our lawn chairs just off the side of the road, we will spend our days watching over Jason, protecting him, and recording the license plate number of anyone who throws a wrapper out their window. We owe it to him, for all that he did for us.
Adopt Jeremy Blachman at jeremyblachman.com.