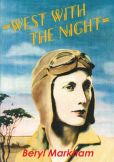 We swung over the hills and over the town and back again, and I saw how a man can be master of a craft, and how a craft can be master of an element. I saw the alchemy of perspective reduce my world, and all my other life, to grains in a cup. I learned to watch, to put my trust in other hands than mine. And I learned to wander. I learned what every dreaming child needs to know — that no horizon is so far that you cannot get above it or beyond it.
The aviator-adventurer Beryl Markham was born on this day in 1902. West with the Night, Markham's 1942 memoir, is No. 8 on the National Geographic list of "100 Greatest Adventure Books." It describes her record-making flight across the Atlantic and her life in Kenya, where she belonged to the same expatriate colony as Karen Blixen and Denys Finch Hatton:
Africa is mystic; it is wild; it is a sweltering inferno; it is a photographer's paradise, a hunter's Valhalla, an escapist's Utopia. It is what you will, and it withstands all interpretations. It is the last vestige of a dead world or the cradle of a shiny new one. To a lot of people, as to myself, it is just "home."
---
Daybook is contributed by Steve King, who teaches in the English Department of Memorial University in St. John's, Newfoundland. His literary daybook began as a radio series syndicated nationally in Canada. He can be found online at todayinliterature.com.