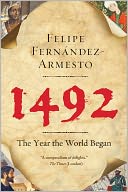 Christopher Columbus arrived in the New World on this day in 1492, his ten-week voyage touching down in the Bahamas and transforming the planet: "It put the Old World in touch with the New and united formerly sundered civilizations in conflict, commerce, contagion, and cultural exchange" (Felipe Fernández-Armesto, 1492: The Year the World Began).

Although not the Asia Columbus had hoped to reach, the islands held wonder and promise, whether economic or evangelic. The following excerpts are taken from Columbus's journal, intended as a record for Spain's King Ferdinand and Queen Isabella:
As soon as it dawned I ordered the ship's boat and the launches of the caravels made ready and went north-northeast along the island in order to see what there was in the other part, which was the eastern part. And also to see the villages, and I soon saw two or three, as well as people, who all came to the beach calling to us and giving thanks to God. Some of them brought us water; others, other things to eat; others, when they saw that I did not care to go ashore, threw themselves into the sea swimming and came to us, and we understood that they were asking us if we had come from the heavens. And one old man got into the ship's boat, and others in loud voices called to all the men and women: Come see the men who came from the heavens.

…[I] showed them gold and pearls, and certain old men answered that in a place that they called Bohio there was a vast amount and that they wore it on neck and in ears and on arms and legs; and also pearls.… [I] understood also that, far from there, there were one-eyed men, and others, with snouts of dogs, who ate men, and that as soon as one was taken they cut his throat and drank his blood and cut off his genitals….
They are people…quite lacking in evil and not warlike; all of them, men and women naked as their mothers bore them.… I truly believe, most Serene Princes…that, given devout religious persons knowing thoroughly the language that they use, soon all of them would become Christian.
---
Daybook is contributed by Steve King, who teaches in the English Department of Memorial University in St. John's, Newfoundland. His literary daybook began as a radio series syndicated nationally in Canada. He can be found online at todayinliterature.com.