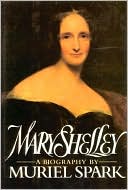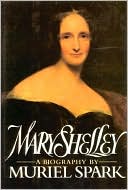 Mary Shelley died on this day in 1851, and one of her biographers, the novelist and short story writer Muriel Spark, was born on this day in 1918. Mary Shelley spent eight years with her husband and then nearly three decades without him. In her biography, Child of Light, Spark portrays Shelley's widowhood as a prolonged, many-sided struggle, occasionally relieved by bouts of hope or composure.

Perhaps she was a "magnet for misfortune;" perhaps she was depressive and difficult to please; certainly she faced many challenges, most of them alone. Her struggles to win adequate support from Shelley's father and estate went on month after month, year in and year out. When her son finally got his inheritance, she was besieged by a series of blackmailers and forgers. Her own five novels written during widowhood were greeted indifferently, and whenever she turned to editing her husband's poems and papers it was "like taking a seal from a fountain," releasing emotions "that I cannot bring myself yet to let flow" — these comments in 1839, seventeen years after Shelley's drowning. When those emotions did flow, they most often resulted in a sigh of heartbreak. Spark quotes the following passage from Rambles in Germany and Italy, a travel memoir Mary Shelley published in 1844; it describes revisiting the Villa Diodati, where the Shelleys and Byron spent their first, famous time together:
At length I caught a glimpse of the scenes among which I had lived, when first I stepped out from childhood into life…. There were the terraces, the vineyards, the upward path threading them, the little port where our boat lay moored…. Was I the same person who had lived there, the companion of the dead — for all were gone? Even my young child, whom I had looked upon as the joy of future years, had died in infancy. Not one hope, then in fair bud, had opened into maturity; storm and blight and death had passed over, and destroyed all.… I looked on the inanimate objects that had surrounded me, which survived the same in aspect as then, to feel that all my life since is an unreal phantasmagoria — the shades that gathered round that scene were the realities, the substances and truth of the soul's life which I shall, I trust, hereafter rejoin.
---
Daybook is contributed by Steve King, who teaches in the English Department of Memorial University in St. John's, Newfoundland. His literary daybook began as a radio series syndicated nationally in Canada. He can be found online at todayinliterature.com.