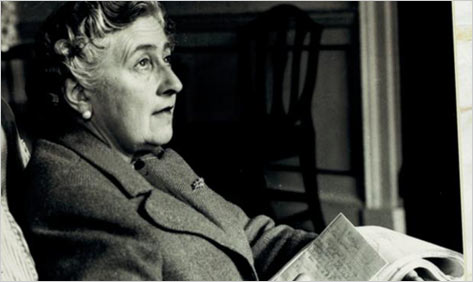 Call it a long-running literary mystery – despite the tectonic influence and undimmed popularity of Agatha Christie's fiction (she is easily best-selling crime novelist of all time), serious consideration of her work and life seemed out of reach for decades. Recently, the case has been re-opened, thanks to Laura Thompson's thoughtful 2007 biography and now, the herculean and much appreciated efforts of arguably the Queen of Crime's most ardent and loyal fan, a jovial Irishman named John Curran.
With the blessing of Mathew Pritchard, Christie's grandson and literary executor, Curran spent years sifting through seventy-three numbered, but otherwise uncategorized handwritten notebooks gathering dust in the author's old home, teasing out enticing morsels that suggest the methods by which Christie came up with her fiendish plots. The answer: not so much outright planning, but, rather, trial and error, with many characters' names changing over drafts, and even, at times, a last-minute change of ending: "her strengths lay in her unfettered mental fertility and her lack of system," Curran states, proving it with excerpts of notes ranging from The ABC Murders to Murder in Mesopotamia.
Lest this book be regarded merely as catnip for hardcore fans, Curran has some genuine surprises in store for sceptical readers. For one, he lets his tongue loose on Christie's weaker efforts, citing "another unfortunate, and utterly unbelievable coincidence" that nearly derails The Mirror Crack'd From Side to Side, and the "jarring note" the tacked-on ending strikes in an otherwise "near-perfect" A Murder Is Announced. For another, the last Marple novel, Sleeping Murder, was long thought to be written in 1940, sealed in a vault until its publication a year after Christie's 1976 death. With detection skills straight from Poirot's "little gray cells" playbook, Curran shifts the probable date of composition by nearly a decade, closer to 1950.
Finally, Curran's most astonishing feat is his discovery of two long-hidden short stories: "The Incident at the Dog's Ball", a charming early period Poirot story Christie never attempted to publish before she expanded it into the novel Dumb Witness; and an earlier, completely different and more politically pointed version of "The Capture of Cerberus", complete with references to Hitler and Poirot's open admiration of the female form! The net effect of Curran's years-long project is a virtual pilgrimage to the Christie homestead, sweeping readers up in his quest for the secrets that underpin Agatha Christie's mysterious literary logic.