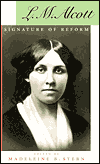 September 30: On this day in 1868 Louisa May Alcott's Little Women was published. It was an immediate bestseller, bringing the thirty-five-year-old Alcott a cult following of teenage girls and a hero status which she grew to regret. In her letters she scorned "the young generation of autograph fiends" that were lionizing her, and when she left for Europe, she took precautions: "Don't give anyone my address," she wrote her publisher, "I don't want the young ladies' notes." Similar thoughts occurred during the writing of the book: "I plod away," she wrote in her journal, "though I don't really enjoy this sort of thing. Never liked girls or knew many, except my sisters, but our queer plays and experiences may prove interesting, though I doubt it." Alcott's journals give other glimpses of her independent and doubtful outlook. "Very sweet and pretty," she wrote of her sister and her husband in their honeymoon cottage, "but I'd rather be a free spinster and paddle my own canoe."
But the book—in all, three-dozen books and hundreds of stories—made good the vow Alcott had made to herself early on: that, though a woman, she would make both her own and her parents' living, and that she would do it by writing. This vow was made necessary by Bronson Alcott being a madcap for schemes of high ideal and low pay. Recognizing that her father was unlikely to change, "Duty's Faithful Child" (her father's term for her) set aside her aspirations for serious writing and turned her eye to the market.
Most publications were either wholesome, sentimental tales of family life, or, at the other extreme, over-the-top fantasies of desire and pursuit—the kind of thing that Alcott's Little Women heroine peddled to "The Weekly Volcano." Most of these were published under the name A. M. Barnard (other pseudonyms included Aunt Weedy, Flora Fairfield, Oranthy Bluggage, and Minerva Moody). Most were given titles to please the romantic potboiler market—A Long Fatal Love Chase, Pauline's Passion and Punishment, and the like. Most often their female protagonists were willful and relentless in their pursuit of their own aims, which often included revenge on those who had humiliated or thwarted them.
---
Daybook is contributed by Steve King, who teaches in the English Department of Memorial University in St. John's, Newfoundland. His literary daybook began as a radio series syndicated nationally in Canada. He can be found online at todayinliterature.com.