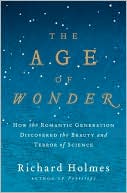 I am delighted to learn that Richard Holmes's The Age of Wonder, his lively and deeply intelligent study of the pursuit of science in the Romantic era, has been awarded the 2009 National Book Critics Circle Award for General Nonfiction. You can read our review of the book, by Dava Sobel, here, and my extended interview with Holmes here.
Three other books reviewed on these web pages were also winners:
Autobiography: Somewhere Towards the End by Diana Athill. Reviewed by Anna Mundow.
Biography: Cheever: A Life by Blake Bailey. Reviewed by Maud Newton.
Fiction: Wolf Hall by Hilary Mantel. Reviewed by Anna Mundow.
Other winners were:
Criticism: Notes from No Man's Land: American Essays by Eula Bliss.
Poetry: Versed by Rae Armantrout.
Joan Acocella was awarded the Nona Balakian Citation for Excellence in Reviewing.
-JAMES MUSTICH