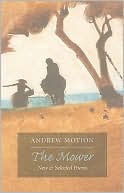 Editor's Note: To celebrate National Poetry Month, we are sampling some of the wonderful work published by small presses that focus on poetry. Each week throughout April, we'll feature poems from a different press. This week, we offer selections from the eminent independent publisher David R. Godine, whose Boston-based press began publishing 40 years ago, and built a reputation for bookmaking craftsmanship that resulted in Newsweek magazine calling out their editions as "flawlessly produced examples of the arts of printing and bookbinding."

Later in the month we'll be also be presenting suites of poems from publishers the City Lights and Graywolf Press.
In 2009, Godine published the first collection from Andrew Motion, the former U.K. Poet Laureate's, to appear in the United States. The poem "All Possibilities" appears in that volume, titled The Mower: New & Selected Poems.
My dead father, who never knew what hit him,
is taking his evening walk through the village.
My brother and I tag along too, kicking stones
at a respectful distance, also our Norfolk terrier,
and my mother in her hospital bed: that rasp-rasp
will be her iron wheels as they disturb the gravel.
His mood is bad. The war ended again this morning
and although he still won, it no longer feels that way.
How come the new town simmering on the horizon?
How come the blank faces and no one remembering
his name? The final straw arrives with the old park,
now a golf course, where his grandparents used to live.
With one hand he is already holding his walking stick
the wrong way round, ready to swing at buttercups;
with the other he shades his eyes and tries to make out
who is playing, and who are the ghosts of his ancestors.
They advance steadily through the twilight and threaten
to circle him, wearing the bright diamond sweaters.
"Fore!" he is shouting, to cover all possibilities. "Fore!"
Andrew Motion, "All Possibilities" from The Mower: New & Selected Poems. Copyright © (2009) by Andrew Motion.
Reprinted with the permission of David R. Godine, Publisher, Boston. www.godine.com