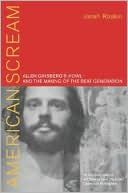 Allen Ginsberg read his poem Howl for the first time in public on this day in 1955, the event almost immediately becoming a part of Beat legend. In the audience at the Six Gallery in San Francisco were many later-famous writers, among them Jack Kerouac, thumping on his wine jug and shouting "Go, Go," at the end of every long line from Ginsberg. After the reading Kerouac told Ginsberg he was going to be famous all over town, with Kenneth Rexroth correcting this to "famous from bridge to bridge." Lawrence Ferlinghetti already had City Lights Bookstore at this point, telegrammed, "I greet you at the beginning of a great career. When do I get the manuscript?" The first sentence is from Emerson's famous letter to Walt Whitman a century earlier praising Leaves of Grass, one of Ginsberg's primary inspirations.

The second sentence in the telegram lead to a second chapter in the legend. Ferlinghetti became the first publisher of Howl, and a central figure in what he later described as "one of the most irresponsible and callous police actions perpetrated west of the Rockies, not counting the treatment accorded Indians and Japanese." This was the raid on City Lights in March, 1957, the police gathering up all unsold copies of Howl and charging both publisher and poet under the obscenity laws. The trial judge was a Sunday School teacher — he had recently been in the news for sentencing five shoplifters to a screening of The Ten Commandments — and there was considerable worry that he would be incapable of getting beyond the drugs and sex in Ginsberg's poem. As it turned out, the prosecution had little response to the long line of scholars and critics who testified to the literary importance of Howl — many indeed comparing it in importance to Leaves of Grass. The judge's ruling, now regarded as something of a landmark, was unequivocal:

I do not believe that Howl is without even "the slightest redeeming social importance." The first part of Howl presents a picture of a nightmare world; the second part is an indictment of those elements in modern society destructive of the best qualities of human nature; such elements are predominantly identified as materialism, conformity and mechanization leading toward war…. It ends in a plea for holy living…. In considering material claimed to be obscene it is well to remember the motto: "Honi soit qui mal y pense."


Beyond the "Evil to him who thinks evil" motto, the first readers of Howl had a forewarning from Wallace Stevens, his introduction to the poem now also famous: "Hold back the edges of your gowns, Ladies, we are going through hell."
---
Daybook is contributed by Steve King, who teaches in the English Department of Memorial University in St. John's, Newfoundland. His literary daybook began as a radio series syndicated nationally in Canada. He can be found online at todayinliterature.com.