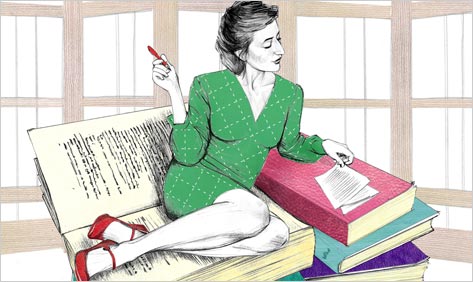 I am living alone for the first time in my life. It's almost hard to believe! I am a native New Yorker, and that's the way it goes here. I always had roommates, ever since leaving home, and then I moved in with the man I would marry. Now I am alone. Parts of it are really great, but then sometimes I don't know what to do with myself. The apartment is not ideal, kind of a way station that was all I could afford while the divorce drags on. I'm having some trouble adjusting, although it's difficult to figure out what's living alone and what's dealing with the end of the relationship. Either way, it can get lonely.
There is something about coming home to an empty, dark apartment. (Well, not pitch dark because you've learned to leave a lamp on in the far corner when you'll be coming home late, so that it doesn't feel like the place is yawning emptily and swallowing you whole.) There's something about that that can stir up a little despair, even if you were fine as you climbed the stairs.
There's also something about coming home to an empty, dark apartment that is incredibly comforting. You can eat pickles straight from the jar in a moonlit kitchen, listening to the water run for your indulgent late night bath. It can swing from one to the other. Sometimes you don't know which reaction you're going to have until you put your key in the door.
Living with someone, of course, also invites its fair share of tumult. One day all is bliss, the next day you resolve to stab your flatmate in the neck with a fork if she ever makes that dramatic little sigh again. But perhaps because we're raised in families, there's something about living alone that can feel incomplete. It comes to seem like an unfinished project that needs to be resolved in a way that living with others doesn't. The solitary life can be very freeing, even if sometimes that manifests itself in the "talking to yourself out loud" kind of way, but it takes an adjustment away from what seem to be our default settings.
Doris in Irmgard Keun's The Artificial Silk Girl sees both sides of lonely urban living. She's been allowed to grow up a little naive, a little soft, and so it's a steeper learning curve for her now that she's on her own. The city is glamorous, it is decrepit. It is sexy, it is lonely. It is an adventure, it is terrifying. She's living in Weimar Berlin, probably a little more economically unstable than your current circumstances (and maybe more glamorously decrepit too), but I'm doubtful it's any moreso emotionally.
Keun writes, "So they have courses teaching you foreign languages and ballroom dancing and etiquette and cooking. But there are no classes to learn how to be by yourself in a furnished room with chipped dishes, or how to be alone in general without any words of concern or familiar sounds."
It's a shame there's not a class for being alone, you just have to muddle through until you figure out ways to self-regulate and until you figure out ways to fill those absences. Keun's Doris isn't so much a guide as a younger sister, doing such a worse job of it than you. Which is the entire point. Following along with her misadventures will bring out the warm, snug feeling a night alone in your apartment — which has dishes that, if chipped, are at least not on loan from the landlord — can offer as soon as you're able to say, "Well, it's not quite so bad as that." Watching someone go off the rails is as good a way as any to learn that you're better oriented than you thought.
If you'd like Jessa to ponder your question, write to "Kind Reader" at kindreaderbn@gmail.com.
Illustration by Thea Brine.