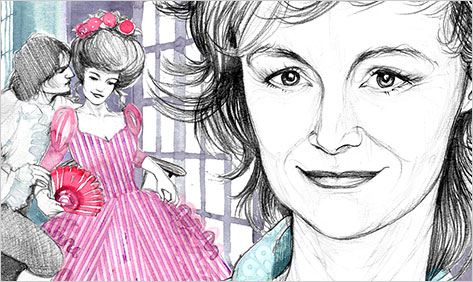 I grew up in the era of '80s bodice-rippers, romances in which lusty pirates snatched their ladies out of lacy boudoirs, ripped off their silk nighties, and had their wicked way with them. As I remember it, everyone in eighth-grade choir practice enjoyed those scenes the most. But these days?well, a heroine is as likely to rip off a hero's button-down, and she certainly wouldn't put up with a man who didn't understand the word no. But let's not kid ourselves: the allure of a wildly alpha, dominant male hasn't vanished. The romance hero may have become more polite, but he's just as untamed as ever.

For me, the alpha man is most delectable when he's in disguise, say dressed in gorgeous embroidery and red heels: in short, as a Georgian lord. The hero of my new novel, A Duke of Her Own, prowls the streets dressed in the plumage of a king — but make no mistake, there's nothing effeminate about the Duke of Villiers. He's arrogance personified. Having decided that he needs a wife, Villiers is intent on selecting one of the two duke's daughters available for marriage. To him, the decision is rather like choosing a new accessory, such as a pair of boots: Eleanor or Lisette? Top-boots or Hessians? One crucial part of this delicious scenario, often overlooked in scornful summaries of the romance genre, is the pleasure of seeing the alpha man — the huge, disdainful pirate — cut down to size. It may be fun to watch a man stake a claim, but it's even more fun when the woman in question throws his proposal back in his face. It isn't until Villiers is in a duel to the death, fighting for the reputation of the woman he loves, that he realizes just how stupid he's been — and how much he's lost.

Christina Dodd's Storms of Visions, the first in a new paranormal series, features a wildly alpha hero, Caleb D'Angelo. He has all the accoutrements, from sinful cheekbones to "pale, brilliant, cold eyes like blue diamonds that held her prisoner in his gaze," as Dodd's heroine quickly learns. But Jacqueline Vargha was born to put Caleb in his place. There's a great tale of good and evil in Storms of Visions, with a rag-tag band of amateurs fighting against monumental wickedness — but the real story is the struggle between Jacqueline and Caleb. He's her bodyguard, and her first lover, and sometimes her friend. But even as she battles to gain control of her powers as a seer, battle is joined between the two of them. He wants to control her in order to save her life, but Jacqueline stubbornly fights to bring him to his knees, to make him lose control. It's a different version of the battle in A Duke of Her Own: the man who deems himself above possession must learn that once his heart is given away, he is no longer invincible.

Jeremy Trescott, the Earl of Kendall, is the hero of Tessa Dare's Goddess of the Hunt. He's a cold-blooded rake with no intention to marry, ever. But when Lucy Waltham, a girl he's known practically his whole life, tells him that she's fallen in love and plans to use him to practice her kisses, the chilly earl suddenly finds that there's something in life he wants more than his independence. But even when he marries Lucy, he finds that ownership of a woman is not really ownership. What he needs is for her to need him: and yet the woman he married is a tough, unbreakable little thing. That's the conundrum of all these novels. The alpha man doesn't choose a beta woman: he finds himself with a woman as powerful, as fierce, and as passionate as he is. The delicious pleasure is in seeing the hero realize the heroine's power over him — in making the alpha man beg, to be frank about it: "Tell me you need me," Jeremy says, "because God knows I can't live without you. I'll kill the man who tries to take you away?" This is a game that men of this stripe don't understand — one where there are no winners, but no losers either.

The heroine of Sandra Hill's So Into You has been a poker champion and a treasure hunter, and is possessed as well of an extraordinary knowledge of folk healing and a past as a nun. There's only one man who could ever best her: her friend Angel Sabato. Hill's alpha man has been in the navy, and in construction, and then made a fortune treasure-hunting. And Angel is no Angel; as he says, at 34, "he'd been around the block so many times there were probably street signs named after him." He's been around the block enough to know precisely what he wants: Grace. But Grace wants nothing to do with Angel. Yet she does want money for her favorite New Orleans charity, so Angel bets a $100,000 donation against one night with her. You can imagine just how well that bet works out for both of them. The key, of course, is that Angel has to learn to compromise rather than command. The twist in So Into You is Hill's — and her characters' — sense of humor; the novel will keep you laughing aloud at the wry way both characters poke fun at their battle even as it rages.

I'm ending this column with a book that goes straight to the heart of why some early feminists didn't want women reading romance: they argued that books about alpha men would lull women into staying in one-sided relationships dominated by abusive partners (and, of course, the hint of eroticized rape was part of that argument). Nicole Dickson's Casting Off is a brilliantly nuanced and beautiful novel about grieving, and letting go, about the cruel dangers of loving anyone — children or husbands — and about falling in love again. Escaping from an abusive marriage, Rebecca Moray leaves the States with her young daughter and flees to an island off the coast of Galway. In the midst of writing about Irish sweater-making, and learning to forgive herself for her failed marriage, Rebecca falls in love. Fionn is no pushover, and not a simply sweet antidote to her abusive husband: he's a tough, honorable, strong man. Rebecca painfully thinks through the difference between a man who thinks nothing of his spouse and a man who knows how to love.

That's the secret at the core of these alpha-hero stories: the heroes are men who know how to love. They may need to learn how to be truly intimate, slowly and sometimes painfully — but they learn. Or sometimes, like Angel and like Fionn, they understand it instinctively. Beta men don't have the corner on love, and these novels go straight to the heart of that truth.

If you'd like to discuss your favorite alpha hero, please stop in to chat with Eloisa in the Romantic Reads Book Club, where she'll be joined by Christina Dodd and Sandra Hill. You can check out Eloisa's past columns in the Archives. If you'd like a peek at Eloisa's own romances (and an excerpt of A Duke of Her Own), please visit her Web site at www.eloisajames.com.

And don't forget to check out Barnes & Noble's new daily romance blog Heart to Heart, where the fabulous Michelle Buonfiglio chats about the hottest news in the world of romance, from favorite authors to scorching love scenes.