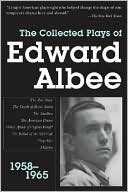 January 24: Edward Albee's The AmericanDream opened on this day in 1961. Martin Esslin says that the play recastthe Theater of the Absurd, thereto a European style, "into a genuineAmerican idiom." In his preface, Albee says that he just wanted to blowthe lid off middle-class America as he knew it:
The play is an examinationof the American Scene, an attack on the substitution of artificial for realvalues in our society, a condemnation of complacency, cruelty, emasculation andvacuity; . . . a stand against the fiction that everything in this slippingland of ours is peachy-keen. Is the play offensive? I certainly hope so….
The exchange below comesearly on, before people are relaxed enough—"Are you sure you'recomfortable? Won't you take off your dress?"—to discuss child mutilationand other memories. At this moment, Daddy has just apologized to Grandma forhaving complained of her endless whimpering:
MOMMY: Daddy said he wassorry.

GRANDMA: Well, that's allthat counts. People being sorry. Makes you feel better; gives you a sense ofdignity, and that's all that's important … a sense of dignity. And it doesn'tmatter if you don't care or not either. You got to have a sense of dignity,even if you don't care, 'cause, if you don't have that, civilization's doomed.

MOMMY: You've been readingmy book club selections again!
The American Dream is also connected to this day through Franz Kafka,who broke off writing his first novel, Amerika,on this day in 1913. Though one of the most famous stay-at-homes in literature,Kafka liked to read travel books. Amerikabegins with young Karl viewing the Statue of Liberty in "a sudden burst ofsunshine," and feeling "the free winds of heaven" on his face.Much of what follows is darker and more disturbing, but by the end—first editorMax Brod says Kafka quit while on his intended last chapter—Karl has reachedthe wide open West, where he seems reborn as a bit actor in "The NatureTheater of Oklahoma."
---
Daybook is contributed by Steve King, who teaches in the English Department of Memorial University in St. John's, Newfoundland. His literary daybook began as a radio series syndicated nationally in Canada. He can be found online at todayinliterature.com.