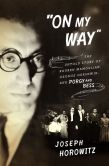 Oh Lawd,
I'm on my way.
I'm on my way
To a Heav'nly Lan'…
The Broadway play Porgy opened on this day in 1927, and on this day in 1935 the George Gershwin musical Porgy and Bess opened on Broadway. Although the 1925 Dubose Heyward novel, Porgy, is source for both stage productions, it ends with a defeated and deserted Porgy sitting on Catfish Row, "an irony of morning sunlight" shining on his losses. The stage productions turned this around by having Porgy call, "Bring my goat!" — described by Stephen Sondheim as "one of the most moving moments in musical theater history" — and then, to the tune of "Oh Lawd, I'm On My Way," head for New York and his beloved Bess.
Joseph Horowitz's just-published On My Way makes the famous stage ending the centerpiece of his "Untold Story of Rouben Mamoulian." As director of both the stage and musical productions, it was Mamoulian who penned both "Bring my goat!" and the closing song.
---
Daybook is contributed by Steve King, who teaches in the English Department of Memorial University in St. John's, Newfoundland. His literary daybook began as a radio series syndicated nationally in Canada. He can be found online at todayinliterature.com.