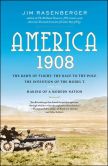 Main Street is the climax of civilization. That this Ford car might stand in front of the Bon Ton Store, Hannibal invaded Rome and Erasmus wrote in Oxford cloisters.
–from Sinclair Lewis's Introduction to his 1920 novel, Main Street
The Ford Motor Company's Model T began production on this day in 1908. In America 1908,Jim Rasenberger agrees that the Model T "transformed not only the automotive industry but, in turn, almost every aspect of how Americans lived and worked." But Rasenberger goes further, offering a handful of reasons why 1908 was the leap year of the century:
It began at midnight on January 1, 1908, when a seven-hundred-pound "electric ball" fell from the flagpole atop the New York Times building — the first-ever ball-drop in Times Square — and ended December 31, 1908 with a two-and-a-half-hour flight by Wilbur Wright, the longest ever made in an airplane. In the days between, the [U.S. Navy's] Great White Fleet sailed around the world, Admiral Robert Peary began his conquest of the North Pole, Dr. Frederick Cook reached the North Pole (or claimed to), six automobiles set out on a 20,000-mile race from New York City to Paris (via the frozen Bering Strait), and the New York Giants battled the Chicago Cubs in one of the strangest and most thrilling seasons in the history of baseball.
---
Daybook is contributed by Steve King, who teaches in the English Department of Memorial University in St. John's, Newfoundland. His literary daybook began as a radio series syndicated nationally in Canada. He can be found online at todayinliterature.com.