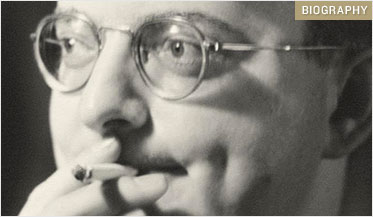 "There's nothing I like better than a good brawl," I. F. Stone once said. And throughout his long career, from his start as a newsman at a number of left-leaning urban papers to his 19 years publishing I. F. Stone's Weekly, the radical muckraker had his share of them. But Stone also once predicted, "I'm going to graduate from a pariah to a character, and then if I last long enough I'll be regarded as a national institution."

He did last long enough, and his biographer D. D. Guttenplan, who has written American Radical: The Life and Times of I. F. Stone, seems almost disappointed that Stone was eulogized warmly in publications around the world after his death in 1989. (The front-page obituary in The New York Times hailed him as an "iconoclast of journalism.") The book is in part Guttenplan's effort to rescue Stone, the subject of three previous biographies, from "his mummification into respectability," and the author's own passions are evident when he writes at the outset,
It is not as clear as it should be that Stone was not only, or merely, or even primarily, a newspaperman. He was also and always a radical, an irritant to those in power — for his uncanny ability to seize on and publicize the most inconvenient truths, and for his vociferous objection to the existing order, for his intransigent dissatisfaction with a society that forces its children to go to war in order to pay for college and that allows the earth to be spoiled and the sick to go without medicine so corporations and those who own them can continue to pile up treasure without let or hindrance.

Stone's career spanned the New Deal, World War II, McCarthyism, the Cold War, civil rights, and Vietnam. Guttenplan, the London correspondent for The Nation, offers a thorough analysis of his written record while also evoking the political and intellectual circles that Stone — a socialist and a fellow traveler but never an actual member of the Communist Party — moved in.

Born Isidore Feinstein in Philadelphia in 1907 (according to his brother, Stone explained the name change by saying that "he didn't want to turn a reader off who might be anti-Semitic, right away, before he ever read the article"), Stone was a college dropout working in a Camden, New Jersey, newsroom when he was radicalized by the 1927 executions of anarchists Sacco and Vanzetti. He moved to New York and talked his way into a job writing editorials for the Post, at that time the city's only left-wing daily; within a few years he was also producing bylined pieces for publications like The Nation and The New Republic. Well known in political circles by the time of the Depression, Stone cultivated friendships in the Roosevelt administration and became "the New Deal's favorite radical" and an important intermediary between radicals and liberals.

Allegations have been made that this radicalism took an extreme form, and that Stone was in fact in the employ of the KGB during the late 1930s. Guttenplan dismisses these charges, but the debate continues to rage. Either way, Stone's heart was clearly with the battle against fascism, and the 1939 Nazi-Soviet Pact made him one of many leftists bitterly disillusioned by the disintegration of the Popular Front. He continued to press for American intervention to stop Hitler, and after Pearl Harbor, Guttenplan writes, "as a leading advocate of radical mobilization, I. F. Stone finally found a national audience."

But his fall to pariah status was of course soon to follow. During the McCarthy years he was a target of daily FBI surveillance. (The author speculates that Stone, who was nearly deaf and had poor vision, may never have realized the extent to which he was being trailed.) "I feel for the moment like a ghost," he wrote during that lonely period.

Unable to land a newspaper job, he decided to start his own four-page broadsheet. Stone advertised his Weekly as a "miniature newspaper of uninhibited commentary and let-the-chips-fall-where-they-may reporting from Washington and elsewhere, wherever the news is hottest." For nearly two decades he delivered on that promise, building up a profitable paper whose influence is hardly suggested by its circulation, which peaked at 70,000. In the Weekly's early years he took on McCarthyism, offering the vivid lament that "a great nation is being driven towards catastrophe like a herd of sheep, moved onward and held together by the nips and growls of a few fierce dogs."

Over the years Stone provided impassioned coverage of nuclear proliferation and civil rights and reported from the Soviet Union and Cuba. He also traveled to the Middle East, writing prophetically about the Arab-Israeli conflict: just after Israel's victory in the Six-Day War in 1967, he suggested that Israel "make a virtue of necessity by offering to set up an Arab state." ("Nothing in his career made Stone so many new enemies — or cost him so many old friends" as criticizing Israel, Guttenplan writes.)

But it was his coverage of Vietnam that secured the Weekly's place in the annals of journalism. His demolition of the State Department's white paper justifying the escalation of the war, published in March 1965, was emblematic of what Guttenplan describes as Stone's "calm, forensic, yet devastating critiques." (The author goes on to label it "probably the single most important issue of the Weekly ever published" for its role in emboldening the antiwar movement.) Stone pored over statistics in an appendix to the report to show that 95 percent of Vietcong weapons came not from China or the Soviet Union but were American-made arms seized from the South Vietnamese. The man who famously said that "all governments lie" was a master at uncovering government secrets hidden in plain sight.

After suffering health problems, Stone shut down the Weekly in 1971. He enjoyed celebrity status in his later years, traveling to Cannes for the premiere of the documentary I. F. Stone's Weekly and writing an unlikely bestseller in 1988's The Trial of Socrates, an investigation into the free-speech issues surrounding the execution of the ancient Greek philosopher. His final hospitalization was during the time of the protests in Tiananmen Square, and he came out of surgery demanding of his gathered family, "What's going on in China?"

Poignant details like that one are rare in American Radical. It's jarring to read, late in the book, the assessment from veteran journalist Peter Osnos, who worked briefly as an assistant on the Weekly, that Stone was "one of the most difficult people that walks the face of the earth"; despite Guttenplan's exhaustive research, even 400 pages in, we've learned little about the private side of Stone, who didn't keep a diary or save his correspondence.

But Guttenplan is more interested in Stone's legacy than his inner life. At the beginning of the book he compares Stone's time to our own: the quagmire of a dubious war, economic insecurity, and dissent likened to treason. During periods like these, he says, Stone is a reminder that "radicalism is as American as the Boston Tea Party." And at the book's end, rebutting the claims that Stone was a Soviet agent, Guttenplan lays out the stakes for accepting that Stone was not a spy but simply an independent radical who always spoke his mind: "Grant his credibility — grant him the compatibility of his beloved Jefferson and his equally beloved Marx — and I. F. Stone remains, even in death, a dangerous man."