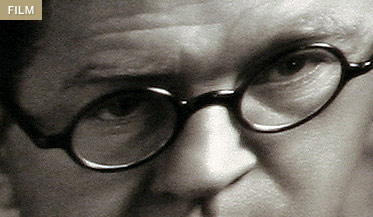 The man widely regarded as America's premier film director once introduced himself at a meeting of film directors this way: "My name's John Ford. I make westerns." Rightfully proud of the glorious cinematic tales of the frontier that he brought to the screen throughout his five-decade career, Ford was actually undervaluing himself.

Here was a film artist who understood his craft so well that few movie genres could fail to inspire him. As comfortable as he was with his beloved westerns, Ford also turned out brilliant examples of domestic dramas, socially conscious epics, war sagas, historical films, regional comedies, and even the occasional crime film. ( If the musical seems conspicuously missing, consider how many songs and dances actually slip into his pictures.) Yet it wasn't just Ford's versatility that distinguished his work; it was the depth of emotion in his films, their vivid sense of humanity, spirituality, and physical grandeur, and the director's unmatched ability to depict historical epochs while keeping individual stories in focus.

Four simultaneously released box sets allow us to take in the grand sweep and acute intimacy of his vision, and two offer particularly spectacular viewing. Ford at Fox brings together 24 features that this American auteur directed for the major Hollywood studio, as well as a new documentary. The Essential Ford cherry-picks four of the most acclaimed films found on the larger set: Drums Along the Mohawk, The Grapes of Wrath, How Green Was My Valley, and My Darling Clementine. (The other two collections — The Silent Epics and American Comedies — also offer their own abundant rewards.) It's a tribute to Ford's flowing genius and productivity that even among this treasure trove, such masterpieces as The Informer, Stagecoach, The Man Who Shot Liberty Valance, They Were Expendable, The Searchers, The Quiet Man, and others made for other studios (and nearly half his Fox films) are not to be found.

While Ford at Fox is a film lover's dream overflowing with gems both legendary and little known — including The Iron Horse, Young Mr. Lincoln, Judge Priest, Up the River, The Prisoner of Shark Island, Four Sons, Steamboat Round the Bend, and Pilgrimage — the more compact Essential Ford delivers what it promises, and the satisfactions are voluminous. Ford's comfort with genres and his ability to master a wide range of subjects is strongly in evidence: there's a Revolutionary War epic (Drums Along the Mohawk), a Depression-era political drama (The Grapes of Wrath), a domestic melodrama set in a Welsh mining community (How Green Was My Valley), and a stirring western (My Darling Clementine). These landmark films defy hyperbole: if they were the only works to Ford's name, they would justify his unimpeachable reputation.

Take The Grapes of Wrath, the 1940 adaptation of John Steinbeck's celebrated novel of migrant workers attempting to survive the ravages of the Dust Bowl. Ford juggles his layered themes with seamless ease. The film's contemporary subtext glorified then-president Franklin D. Roosevelt's attempts to reform working conditions in the flagging economy (notice how the benevolent supervisor of the work camp has a subliminal resemblance to FDR), while attacking the heartlessness of big business (if the scene of the down-on-his-luck farmer losing his land to the faceless bank doesn't choke you up while simultaneously bringing your blood to a boil, check yourself for a missing heart). Despite the political overtones, Ford's abiding interest lies in the question of family unity: how do blood relations hold together when life is doing all it can to pull them apart? We are drawn into this dramatic morass by way of Ford's brilliant acting troupe. The unforgettably affecting performances of Henry Fonda as Tom Joad and Jane Darwell as "Ma" Joad may dominate the film, but it's obvious that Ford devotes careful attention to each actor, no matter how large or small the part. This attention to detail imbues Grapes with believability and, hence, its mighty expressive power.

Ford also wants us to see America in all its glory and diminishment. Working with Greg Toland, the outstanding cinematographer — who, a year later, made film history with his innovative work on Orson Welles's Citizen Kane — Ford invests the arid fields of the Midwest and the verdant landscapes of California with equal visual force. His silent film?era experience is reflected in his consistent ability to make images speak with a potency that words can only strive for. The lump-in-your-throat sequence when Ma Joad silently says goodbye to her home and her past, while bravely facing the frightening present, needs no spoken script to bolster its emotive strength; Ford's images (and, it must be said, skillful use of music) do the work.

The Oscar winner for best film of 1941 (yes, the year of Citizen Kane) was How Green Was My Valley. Like Grapes, it showcases Ford's ability to juggle high sentiment with impressive cinematic technique. And, like its predecessor, it allows Ford to balance a tragic social setting against the drama of a family's growing dissolution. Ford's images — both those of epic and intimate scale — have lost none of their impact with the ensuing decades. The homeward march of the coal-blackened Welsh miners as they snake through the town will cling to your memory, but so will the lacerating scene at the dinner table as the family patriarch (played with stoical dignity by the great Donald Crisp) is rejected by his defiant children.

But indelible sequences are practically the rule. My Darling Clementine alone is bursting with them. How about Henry Fonda taking that lopsided turn on the dance floor? Or Victor Mature, as Doc Holliday, transfixing a rowdy saloon by way of a where-did-this-come-from Shakespearian recitation? Watch how Ford, again in his best wordless manner, adds dimension to Fonda's Wyatt Earp character by merely having him offhandedly shift his feet on a pole while biding his time on a front porch. If the four films in The Essential John Ford yield dozens of such exhilarating examples, imagine the multitudes you'll discover as you work through the treasures on the bulging Ford at Fox.