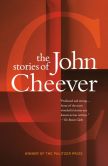 The Stories of John Cheever was published on this day in 1978, winning the Pulitzer, the American Book Award, and the National Book Critics Circle Award. Coming just four years before his death, the highly praised collection secured Cheever's "coronation" (biographer Blake Bailey) as "the best storyteller living" (John Irving) and "the Chekhov of the suburbs" (John Leonard).

Although Cheever suggests in his Preface that the chronologically arranged collection will reveal a writer "clumsily learning to walk, to tie his necktie, to make love, and to eat his peas with a fork," the first story, "Goodbye, My Brother," written almost thirty years earlier, is regarded as one of his best. Its often praised final paragraph:
Oh, what can you do with a man like that? What can you do? How can you dissuade his eye in a crowd from seeking out the cheek with acne, the infirm hand; how can you teach him to respond to the inestimable greatness of the race, the harsh surface beauty of life; how can you put his finger for him on the obdurate truths before which fear and horror are powerless? The sea that morning was iridescent and dark. My wife and my sister were swimming — Diana and Helen — and I saw their covered heads, black and gold in the dark water. I saw them come out and I saw that they were naked, unshy, beautiful, and full of grace, and I watched them walk out of the sea.
---
Daybook is contributed by Steve King, who teaches in the English Department of Memorial University in St. John's, Newfoundland. His literary daybook began as a radio series syndicated nationally in Canada. He can be found online at todayinliterature.com.