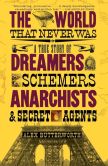 All is linked, all holds together under the present economic system, and all tends to make the fall of the industrial and mercantile system under which we live inevitable. Its duration is but a question of time that may already be counted by years and no longer by centuries. A question of time — and energetic attack on our part! Idlers do not make history: they suffer it! (Anarchism: Its Philosophy and Ideal, 1898)
The anarchist leader Peter Kropotkin was born in Moscow on this day in 1842. Believing "that the best of men is made essentially bad by the exercise of authority," Kropotkin dreamed of a state based on small-group cooperation and mutual aid.

In his recent study, The World That Never Was: A True Story of Dreamers, Schemers, Anarchists, and Secret Agents, Alex Butterworth describes how the anarchist ideals, always vulnerable to impatient zealots, factional disputes, and extremist policies, nosedived into terrorism and chaos:
Anarchism's ultimate aim was to usher in a society of perfect beings; a heaven on earth in which harmonious coexistence was achieved without coercion or the impositions of distant authority, but rather arose out of each individual's enlightened recognition of their mutual respect and dependency. Such a world, Kropotkin believed, would flourish naturally once the age-old cages of commerce, hierarchy and oppression that stunted and distorted human nature were torn down.… There were those, however, who acted on impulse to hasten the advent of that paradise, or else out of vengeance or frustration, taking only their own vaunted conscience as their guide.
---
Daybook is contributed by Steve King, who teaches in the English Department of Memorial University in St. John's, Newfoundland. His literary daybook began as a radio series syndicated nationally in Canada. He can be found online at todayinliterature.com.