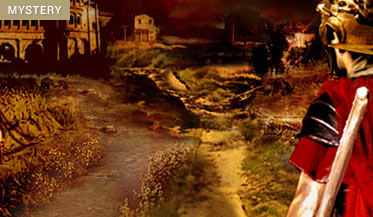 Judging by the volume of titles published each year, mystery readers are restless in their pursuit of literary escape. They might travel to far-flung places or stick close to home with their favorite hobbies. They can solve the world's greatest conspiracies, or root for a lone wolf grappling with personal problems mundane and bleak. Indeed, mysteries lead readers through an endless variety of subjects and settings; yet sometimes devotees of detection seek to be transported though another dimension as well: time.

Enter the historical mystery, which at its finest is a perfect blend of whodunit and history lesson, education and entertainment. In the genre's early days, examples were isolated. Agatha Christie's 1944 novel Death Comes at the End was set in Egypt circa 2000 B.C., exploring the darkest deeds of those who worshiped at the altar of Ra. Six years later, locked-room mystery master John Dickson Carr set The Bride of Newgate during the Napoleonic era, a setting more familiar to readers of Austen-influenced drawing room romance or adventure in the vein of C. S. Forester.

The historical subgenre would not properly take off for another quarter century, when Edith Pargeter, writing as Ellis Peters, decided to publish a mystery novel set in 12th-century England. That book, 1977's A Morbid Taste for Bones, gave Peters and her Welsh hero, the Benedictine monk Brother Cadfael, an immediate following; 20 novels, a slew of telemovies starring Derek Jacobi, and an eponymous award later, Peters is the benchmark against which most subsequent historical mysteries are measured.

Peters's popularity demonstrated that an historical setting was just as appropriate for sleuthing as a modern one; with the door flung wide open, any time period or setting soon became fair game for an intrepid author. Christie may have tackled ancient Egypt first, but she set the stage for its use as a setting by several later crime novelists. P. C. Doherty, the highly prolific writer of many types of historical mystery, has mined it for his own use, starting with The Anubis Slayings (2001). Lynda S. Robinson added greater panache and investigative wit with her six-book Lord Meren series. More recently, ancient Egypt has become Nick Drake's and Brad Geagley's domain. Drake's strongly plotted 2007 debut, Nefertiti: The Book of the Dead, introduced Rai Rahotep, an inscrutable and capable chief detective in Thebes tasked with investigating deaths connected to the famed queen; Geagley jumps ahead to 1187 B.C., as Semerket, chief of investigations and secrets, operates under Ramses III's rule in Year of the Hyenas (2005) and The Day of the False King (2006).

But the cream of the historical mystery crop has settled into ancient Rome for series that run almost indefinitely. On the serious end of the spectrum, with an expert mix of history and peerless writing, is Steven Saylor. His extended series featuring Roman investigator Giordanus (who returns for the 15th time in The Triumph of Caesar, due in May) highlights the turmoil and bloodshed prominent during Julius Caesar's time. John Maddox Roberts's SPQR novels are nearly as numerous as Saylor's and are also set during in Caesar's epoch. They differ, however, by employing as sleuth a Roman senator, Decius Caecilius Metellus the Younger, along with a breezier prose style, allowing more room for digression.

Lindsey Davis distinguishes her Roman series further by moving forward in time to the 1st Century C.E., but that's not the primary distinction. Rather, she invests her equally long-running hero Marcus Didius Falco — last seen in 2007's Saturnalia — with wisecracking humor that owes as much to hard-boiled private-eye fiction in the vein of Raymond Chandler as it does to Roman antiquity. Falco's personal life is also developed in amusing fashion as he matches wits with his mother and develops an idiosyncratic romance with his eventual wife, Helena, who shows again and again that she is the smarter one of the duo. The Falco novels wear their distant setting well, but it never detracts from the wonderfully light-hearted entertainment the books provide.

Ruth Downie and Ben Pastor are the newest kids on this ancient block: Downie's hero Gaius Petreius Ruso owes a great deal to Davis's comic influence, but the author's voice is distinct enough that his exploits have a promising start in Medicus (2007) and its just-released sequel, Terra Incognita. Pastor's two novels, 2007's The Water Thief and April's The Fire Waker, feature historian detective Aelius Spartianus and for now appear to be more in the serious-minded vein of Saylor and Roberts.

The abundance of Roman historical mysteries contrasts with the surprising paucity of crime novels set in classical Greece. Perhaps the Greek gods have a hand in this disparity, or perhaps this means there is a void waiting to be filled by just the right series. In the meantime, readers are well advised to hunt around for Margaret Doody's books featuring the philosopher Aristotle as detective, though the hunt is scavenger-like because the books are sadly out of print. Her first entry, with the obvious title of Aristotle, Detective (1978), set the mold, as Aristotle is enlisted to investigate the brutal murder of an Athenian citizen and clear the name of his prot?g?. After this initial mystery, Doody, a professor of literature at Notre Dame, spent the next two decades concentrating her efforts on academia before publishing a sequel, Aristotle and the Poetic Justice, in 2002. Three more novels exploring facets of Athenian life and political shenanigans have followed, each one demonstrating Doody's expert mix of historical fact and narrative style.

* * *

This survey of historical mysteries is the first of an ongoing series. In Part Two, we'll set the time machine for more recent eras, starting with some mysteries that exchange the grandeur of ancient civilizations for the more shadowed majesty of the medieval world.