Dear Reader,
Chosen by a panel of independent judges made up of Discover alumni and other notable writers, the six finalists for the Discover Great New Writers Award represent the best of what our bookseller selection committee read last year.
Each of the first place, second place, and third place winners received a check for $10,000, $5,000, or $2,500, respectively.
FICTION
Presented by judges Chris Abani, Lauren Belfer, and Bo Caldwell.
First Place: Scott O'Connor, Untouchable (Tyrus Books, a division of F+W Media)
Second Place: Alice LaPlante, Turn of Mind (Grove/Atlantic)
Third Place: Alan Heathcock, Volt (Graywolf Press)
NONFICTION
Presented by judges Marie Arana, John Freeman, and Koren Zailckas.
First Place: Michael Levy, Kosher Chinese (Henry Holt & Co.)
Second Place: Annia Ciezadlo, Day of Honey (Free Press)
Third Place: Joshua Cody, [Sic] (W.W. Norton)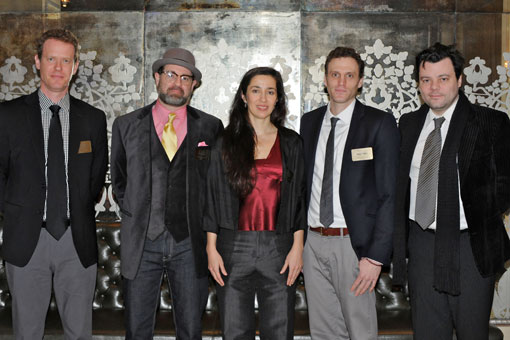 Discover Award Winners (from left to right): Scott O'Connor, Alan Heathcock, Annia Ciezadlo, Michael Levy, and Joshua Cody (photo credit Scott Kahn)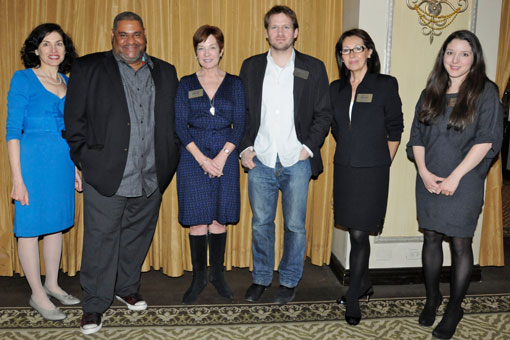 Discover Award Judges (from left to right): Lauren Belfer, Chris Abani, Bo Caldwell, John Freeman, Marie Arana, and Koren Zailckas (photo credit Scott Kahn)
Also joining us at the awards ceremony were 2011 Discover authors Alethea Black (I Knew You'd Be Lovely), Christopher Bollen (Lightning People), Ian Morgan Cron (Jesus, My Father, the CIA, and Me), Alison Espach (The Adults), Benjamin Hale (The Evolution of Bruno Littlemore), and Debbie Nathan (Sybil Exposed).
Congratulations to all. We'll post the judges' comments about each of the winners shortly, followed by book recommendations from the six finalists over the coming weeks.
Cheers, Miwa
---

Miwa Messer is the Director of the Barnes & Noble Discover Great New Writers program, which was established in 1990 to highlight works of exceptional literary quality that might otherwise be overlooked in a crowded book marketplace. Titles chosen for the program are handpicked by a select group of our booksellers four times a year. Click here for submission guidelines.