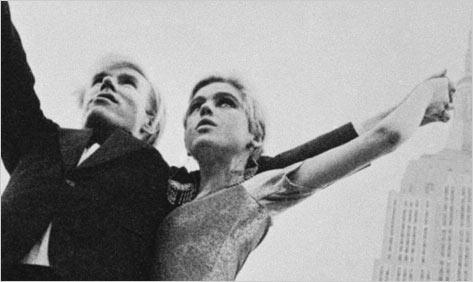 Like the scabrous Easter candy known as Peeps, Andy Warhol tends to provoke strong reactions in people. There are those folks who are somehow touched deeply, even if shallowly, in their presence, and there are those who feel an urge to do violence—witness Valerie Solanas, who pumped Warhol full of bullets, or the untold number who have done the same to a chorus line of Peeps. Still, I'd wager, considering Warhol's prodigious/profligate output, there is at least one piece of his oeuvre that you think is pretty cool: maybe Mao, or a movie (he made about 150 of them), or, for the fetishists out there, a drawing of a shoe from when he was a commercial artist. This guide will very likely take you to where he made it—for Warhol was a homebody and Manhattan was his home–though the where might not be there anymore.
Andy Warhol's New York City features four walking tours and eighty, sometimes phantom, locales that figured in his life. The routes could easily have been plotted by a drunken sailor, which Warhol (and any flâneur worth his or her salt) would have approved of, and they are all the better for being so.
Not exactly random though certainly rangy, and offbeat, a bit like Thomas Kiedrowski's occasional humor, as when he notes that the Church of St. Vincent Ferrer is "well-known for…the fact that Jackie Kennedy once prayed here." Kiedrowski, who leads tours to Warhol sites in the city, aims to give you a taste of Warhol Land, the little things that seasoned and sustained his world: where he lived and worked and where he shopped, where he ate (and fed his burgeoning entourage) and where he found late-night entertainment.
Short descriptive bursts accompany each stop along the walks, background material to conjure atmospherics. Perhaps it is where Warhol bought his wigs ("Hairpieces by Paul"—the building, darn it, has been razed) or the Warhol residence at 242 Lexington Avenue: "there were two bare mattresses next to each other on the floor where Warhol and his mother each slept" (84): Warhol was thirty-two years old at the time and not a pauper. If that isn't atmospheric enough, there is 5 Cornelia Street, where the dancer Freddy Herko danced out a fourth-floor window to his suicide. Lightening the journeys, there are the happenings, the Velvet Underground, automats, personalities galore: from Nico to Truman Capote to Edie Sedgwick to Tiger Morse, "factories" of explosive creative energy, galleries, and an extraordinary number of churches where Warhol did whatever it was he did in churches.
With the book's pink accents, these walks are like valentines from Warhol to New York City, a gift of unconditional, often unhinged, love.