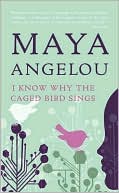 April 4:On this day in 1928 Maya Angelou was born in St. Louis, as Marguerite Johnson.As a child she got the nickname "Maya" ("mine") from herbrother; she chose the "Angelou" later, an adaptation of her firsthusband's name. The title of I Know Whythe Caged Bird Sings, the first and most famous volume of herautobiography, she took from a Paul Laurence Dunbar poem:
I know why the caged birdsings, ah me,

When his wing is bruisedand his bosom sore….
Angelou says that herremarkable and varied life—prostitute, dancer, actor, writer, activist,educator, academic—has been made possible by a "remedy of hope"forged from reading, courage, and "insouciance." The reading beganearly, as a way to combat the troubles inflicted on her early years—herparents' divorce, racism, rape at the age of eight, five years of mutewithdrawal, motherhood at sixteen. The courage is chronicled throughout all sixvolumes of the autobiography, for example in her decision to return to Americafrom Ghana to work with Malcolm X and Martin Luther King (and her determinationto carry on after their murders, King's on this day in 1968). Among theepisodes of insouciance is this encounter between Angelou and her Ghanaian "husband,"a demanding type who followed her to Los Angeles despite her forewarnings.After they returned from the movies one night, she made dinner while he stoodfrowning in the living room "like a Yoruba carving":
"Why can't we be likethem?"

"Like whom?"

"Those two actors inthe film."

"Doris Day and RockHudson?"

"I don't know theirnames, but why can't we be to each other the way they are?"

"Are youserious?"

"Do you think I amplaying?"

"Those are actors.They are not real. I mean, the roles are just roles. . . . You want me tobecome a perky little blond woman? Is that what you want? . . ."

I picked up my car keysand my purse and went into the kitchen. I took the corners of the tableclothand let the food and plates and silverware and glasses fall down into thecenter. I dragged the whole thing to the living room.

"Here's dinner if youwant it. I'm leaving."
---
Daybook is contributed by Steve King, who teaches in the English Department of Memorial University in St. John's, Newfoundland. His literary daybook began as a radio series syndicated nationally in Canada. He can be found online at todayinliterature.com.