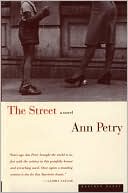 October 12: The American novelist and short story writer Ann Petry was born onthis day in 1908. Except for the span of a single decade, Petry lived in the town of Old Saybrook, Connecticut. Thedecade away was in New York City, much of the time spent as a reporter for aHarlem weekly. This experience provoked her first novel, The Street, which became a record-breaking bestseller when it waspublished in 1946. Written in a naturalistic, reportorial style, the noveldescribes the desperate and losing battle which a single, working mother wagesagainst petty crime, predatory men, and systemic racism: "Streets like theone she lived on were no accident. They were the North's lynch mobs, shethought bitterly; the method the big cities used to keep Negroes in theirplace."
For the mother and herlatch-key son, each night's homeward walk is a Dantean descent terminating, inthis case, at their fifth-floor walk-up. In this dark hallway the landlordleers, biding his time; behind this door the drunk beats his wife; everywherethe radio blares—swing music, or the preacher and his clapping congregation, orthe cheery pitch to "Buy Shirley Soap and Keep Beautiful":
She started up the stairs.They went up and up ahead of her. They were steeper than she remembered them.And she thought vaguely of all the feet that had passed over them in order towear the treads down like this—young feet and old feet; feet tired from work;feet that skipped up them because some dream made them less than nothing toclimb; feet that moved reluctantly because some tragedy slowed themup.
Petry's novel was thefirst by a black American woman to sell 1.5 million copies. Alice Childress,born on this day in 1920, became the first black American woman to have a playproduced professionally, and the first woman to win an OBIE award. She beganher career in Harlem at about the same time Petry lived there, and her teennovel, A Hero Ain't Nothin But a Sandwich (1973) is set in the same Harlem streets.
---
Daybook is contributed by Steve King, who teaches in the English Department of Memorial University in St. John's, Newfoundland. His literary daybook began as a radio series syndicated nationally in Canada. He can be found online at todayinliterature.com.