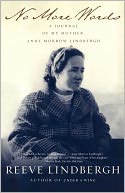 Anne Morrow Lindbergh was born on this day in 1906. Lindbergh's biographers make it clear that she regarded her fame as both worthwhile and worthless, depending on its source. She was proud of her accomplishments as an aviator-adventurer and author, and perhaps even more proud of her husband's, but her celebrity status as bereaved mother and spokeswoman (for feminism, conservationism, etc.) left her scornful and puzzled. Her Gift from the Sea,a nonfiction bestseller when published in 1955 and still popular, speaks to both sides of the fame coin, advising women to find their own outward and inward paths:
Woman's life today is tending more and more toward the state William James describes so well in the German word, "Zerrissenheit—torn-to-pieces-hood." She cannot live perpetually in "Zerrissenheit." She will be shattered into a thousand pieces. On the contrary, she must consciously encourage those pursuits which oppose the centrifugal forces of today…. Solitude, says the moon shell. Center-down, say the Quaker saints. To the possession of the self the way is inward, says Plotinus. The cell of self-knowledge is the stall in which the pilgrim must be reborn, says St. Catherine of Siena.
The reflections in Gift from the Sea were inspired by Lindbergh's time on Florida's Captiva Island. At the end of the book, she eyes leaving her retreat with apprehension, fearing a return to "not only too many dull people but too many interesting ones," to "values weighed in quantity, not quality; in speed, not stillness; in noise, not silence; in words, not in thoughts." The retreat within may have gone too far, as described by Lindbergh's daughter. In No More Words (2001), Reeve Lindbergh recounts caring for her mother over her last, difficult twenty-two months, a period during which, after a lifetime of writing and engagement, she became increasingly uncommunicative:
Words were central to her life for as long as I have known her, and yet she appears perfectly comfortable without them. She does not miss them. I on the other hand, am at a loss. I am bewildered, confused, absolutely at sea, in my mother's silence.
---
Daybook is contributed by Steve King, who teaches in the English Department of Memorial University in St. John's, Newfoundland. His literary daybook began as a radio series syndicated nationally in Canada. He can be found online at todayinliterature.com.