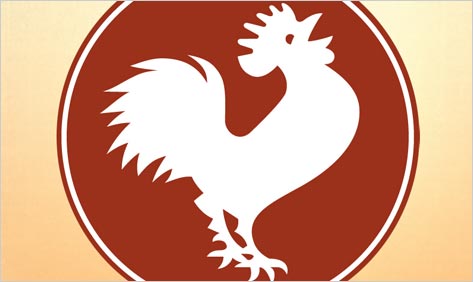 The Morning News' ninth annual Tournament of Books is under way! Each weekday throughout the month, two of 2012's finest works of fiction go head-to-head, with the winner advancing to the next round. Presented by NOOK, the sixteen-book competition (bracketed a la NCAA Basketball's March Madness) began on March 4th, with a three-way "tournament play-in" between The Yellow Birds by Kevin Powers, David Abrams' Fobbit, and match winner Billy Lynn's Long Halftime Walk by Ben Fountain. Billy Lynn advances to face A.M. Homes' May We Be Forgiven in the tournament's opening round, which begins this Thursday, March 7th.
Unique in its tallying of votes from both readers and an esteemed panel of author and critics, the tournament is the brain child of Morning News co-founders Rosecrans Baldwin (author of Paris, I Love You but You're Bringing Me Down) and Andrew Womack. Joined by contributors Kevin Guilfoile (A Drive into the Gap), and John Warner (The Funny Man), who serve as the tournament's resident "color commentators", the ToB team acknowledges the curiosity of an NCAA-style literary contest. "The idea started as a joke—the funny ha-ha kind," explains Guilfoile. "We were talking about book awards—at the time the National Book Award was being criticized because all the nominees lived like on the same block in Brooklyn or something—and we all agreed that awards for art are both ridiculous and irresistible at the same time."
Yet the thrill of friendly competition shares the enthusiasm of a passionate reader. "In the end, we're promoting fiction… the one-on-one, intimate, strange experience a person undergoes while reading a book," says Baldwin. "I've learned more about writing books from the tourney than just about anywhere else," adds Warner, "and I think it's due to me being required, as the color commentator, to consider all of these different responses to books." The tournament's champion is even offered a handsome, if someone unusual grand prize: a donation on the winner's behalf of several live chickens to the Heifer Foundation, evoking the Morning News' crowing bird logo. "When someone else loves a book you love," notes Guilfoile, "it's a kind of affirmation of who you are. It really does become existential on some level, which is a funny thing to say about a contest with a live chicken for a prize."
To view this year's Tournament bracket in full, learn more about the judges, and read opening round commentary, visit the Tournament of Books homepage at themorningnews.org/tob.
To browse and shop for all of the 2012 nominees, check out our special Tournament of Books section at barnesandnoble.com.