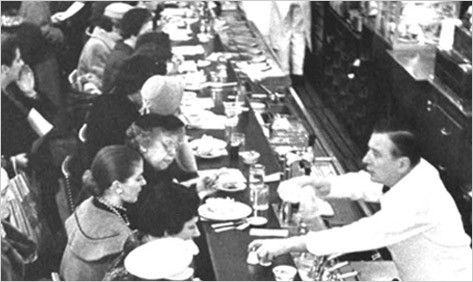 Given that there are cultural histories dedicated to such narrow provender as salt, spice, cod, and oysters — and that you can rip into a book called The Sexual Politics of Meat — the absence of a sophisticated history of New York City's restaurants is puzzling. It's a meaty and well-marbled subject — the city as seen through the dining establishments that mirrored the city's urban flex as it grew from tentative 18th-century beginnings to a place where the battle for a plum 8 p.m. reservation is waged with all available weaponry.
That deficit has been filled by William Grimes, former restaurant critic for The New York Times, with his Appetite City: A Culinary History of New York. It's not a perfect meal, but it's a loving and largely successful historical document of a city that takes its food — whether a secret food cart or cartwheels at Babbo — with haute seriousness.
Grimes has a deep soup bowl to ladle from. Name your vector: geography, sociology, wealth, immigration, war, Depression; there's no aspect to the city's history that doesn't zoom to the table as an expression of the larger urban zeitgeist.
Appetite City takes us on a loosely chronological journey, beginning in the early 1800s, when the dining action was nil. Grimes notes that "The purportedly comprehensive Blunt's Stranger's Guide to the City of New York (love that title!) published in 1817, listed no restaurants at all…." By the mid-1820s things began to change, largely thanks to Delmonico's, which, Grimes observes, "…brought a whiff of Paris into the crude, bustling streets of a city long on ambition but short on amenities." Culinary fame wasn't as fleeting, then; "Delmonico's…would remain pre-eminent until the 1890s."
The book reproduces the earliest-known Delmonico's menu which shows "the ambitions of its kitchen"; in an early sign of menu pretension dishes are listed in French on the left — including "Potage de tortue," "Saucisson de Lyon," and "Gateau de pommes" — and in English on the right. You could say that Delmonico's created our modern notion of how a French restaurant should look, feel, and act.
Grimes has a terrific chapter on the astounding bounty of local ingredients that were available in the city's backyard, describing the kind of farm-to-table ideology that Michael Pollan and the locavore movement are pushing for. Twenty-first-century diners, however, are unlikely to see bear meat, or "snipe, plover and woodcock from the meadows near Newark" on menus any time soon (no cheap Jersey jokes from this reviewer). But there is still unchanging bounty-within-reach, including oysters; Appetite City devotes an entire chapter to the bivalve and what it meant to New York. Those who rush by the Oyster Bar in Grand Central don't realize that oysters were once a huge industry, and they were our prized local food; the author William Makepeace described his meal as "perfect beasts of oysters." And Grimes harvests some fascinating stories of how the oyster trade provided an opportunity for black entrepreneurs.
The book rolls on, with the beginning of factory feeding in the 1840s and 1850s, when the "press of hungry humanity required larger establishments that could handle anywhere between 1,000 and 3,000 diners during the lunchtime rush, a stampede that became, for foreign visitors, one of New York's required sights."
The Gilded Age spawned explosions of dining affluence. Hotels entered into a roof-garden arms race; in 1908 the Hotel Astor created an expanse that covered the equivalent of 28 city blocks, including promenades, three orchestras, and formal gardens. Diners would tuck into their lavish meals at the Belvedere Restaurant; it was early Vegas with a "central feature that was a nine-ton block of ice, measuring eighteen feet by six feet…cold dishes were arranged in vast buffet: lobster in aspic, paupiettes of bass, Russian borschchok."
New York's restaurant scene was shocked into change by the great ethnic migrations: the Germans — there's a brief history of the beer hall; the Irish, who, Grimes dryly notes, were "a mighty force in sheer numbers, [but] added little to the culinary equation"; Jews and Italians. He barely deigns to give a schmear to the Jewish pastrami palaces, though — no Stage or Carnegie Deli — and he gives short shrift to the development of the New York obsession with Chinese food. (Fortunately a recent book, Chop Suey: A Cultural History of Chinese Food, covers that with more than fortune-cookie brevity.)
The book gives only a passing nod to the Depression, although I did learn that the fitness entrepreneur Bernarr Macfadden opened a penny restaurant on Third Avenue near 34th Street in 1941; through a $5 million foundation he created with his publishing profits, he eventually opened five more penny restaurants. (Sadly, we may have completed a historical circle, and I wouldn't be surprised if some savvy entrepreneur launched today's version of Downturn Dining.)
The skimpy Depression coverage is symptomatic; Grimes is weak on the conceptual side of the larder, the framing of restaurants against the larger social ethos. One could imagine a chapter on restaurants and the evolution of dating and courtship in New York, a bit of Wharton and James. Or the role of ethnic food in creating a shared urban fabric, the kind of assimilative perspective we find in Gunther Barth's brilliant and overlooked City People: The Rise of Modern City Culture in Nineteenth-Century America.
Not surprisingly, as a former restaurant reviewer, Grimes prefers to tell his narrative through specific restaurants. Long-forgotten Rector's was a Chicago transplant that moved to Long Acre Square, then a fringe neighborhood. (Lobbying works; Long Acre became Times Square in 1904 after The New York Times moved there.) Rector's was proto-Damon Runyon; an early collision of the high-low crowd, a boisterous destination that attracted the wealthy, as well as the actors, actresses, and chorus girls who spilled into the joint when their shows were over. A song from the 1913 Ziegfeld Follies went "If a Table at Rector's Could Talk."
Also defrosted from the freezer of restaurants past is Mouquin's, a beloved French bistro that served, in the mid- to late 1800s, "…truffles and snails and artichokes and onion soup at a time when most Americans had never heard of such things." Then there was Dario Toffenetti, whose restaurant, like many others, sprung into permanence from the 1939 World's Fair. Toffenetti was a natural marketer and his menus romanced their ingredients; long before waiter provenance patter became an object of parody, Toffenetti's Time Square restaurant menu described his potatoes as "Rough Skinned But Tender-Hearted. From the Lava Beds of Idaho."
No history of New York's restaurants would be complete without Horn & Hardart's Automat. By 1933 there were 43 of them in New York, presenting diners their meals through mechanical portals with the same clinical efficiency with which we now get cash and boarding passes. Grimes over-eggs the pudding, though, when he describes the Automat as "one of the milestones marking the country's transition from the nineteenth to the twentieth century."
Grimes is strong, as you'd expect, on the postwar restaurant scene through the present time, but you don't read the book for what he has to say about Jean-Georges Vongerichten or Daniel Boulud. He closes with a chapter about his years as the Times' critic during the "frenzied restaurant boom" — reflecting on where he fell in the chain of those who held the same seat, why he trashed some restaurants and lofted others, and why he felt the one-star review was an "under-used asset."
Of course, not even a Gibbon-like exhaustiveness could possibly restrain the oversight police in such highly contentious territory, so permit me one cavil. The absence of Peter Luger, the Lipitor landmark founded in 1887, which has prospered despite (or perhaps partly because of) its stubbornness — it only accepts its own credit card, its waiters are epically irascible, it's been at the same forlorn spot in Brooklyn forever — is inexplicable. (So is the absence of David Chang and his wildly but rigorously inventive Momofuku mini-empire.)
Appetite City is also strangely silent on the role of the Internet and the democratization of criticism through sites like Yelp.com and Chowhound, as well as hundreds if not thousands of food blogs where no arcane fetish goes unrealized. These are profound changes. (The word "blog" doesn't figure in the index a single time.) And the Zagat guides — a pre-Web concept that helped blow down the doors of the academy — get one reference, a dismissive description as an "Informal Tip-sheet created in 1979." Nonetheless, disappointments aside, it would be decidedly unjust to give this effort less than a full three stars.