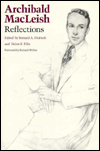 April 20: Archibald MacLeish died on this day in 1982, a few weeks before his ninetieth birthday. If MacLeish is not forgotten entirely today, most are unaware of the full range of his accomplishments in 20th-century American literature and cultural life: two Pulitzers, a Bollingen, and a National Book Award for poetry; a Tony and a Pulitzer for drama (both for J.B.); an Oscar for the screenplay to The Eleanor Roosevelt Story; and, for his initiatives as the inaugural Librarian of Congress, a spot on the list of 100 Most Important Librarians in America.
MacLeish kept writing almost to the end, and often on the topic of old age. Many of these last poems express the same sort of ambivalence that is found in his most famous and anthologized "Definitions of Old Age" — the disquietude of feeling that your own thoughts sound like "something some old idiot has misquoted," the gratitude for "love without the bitterness." This is "Return to the Island," one of several poems about the fear of losing the writer's voice:
Years ago in the night

there were words in the sound of the wind,

words in the sound of the sea.

I would wake in the night and know

that they spoke to me.

Now in the night the words

cry in the sound of the wind,

cry in the sound of the sea.

I wake and know they speak

but not to me.
And this is a journal entry from one of his last autumns, a worry about the coming winter cold, and more:
You creep back into yourself, into bundles of clothes, into corners of time, into numbness…. Wonder and delight cannot be felt when a man is turned inward on himself as the old are. One must grow old, prepare to die, facing outward toward the miracle of things. But how to turn!
---
Daybook is contributed by Steve King, who teaches in the English Department of Memorial University in St. John's, Newfoundland. His literary daybook began as a radio series syndicated nationally in Canada. He can be found online at todayinliterature.com.