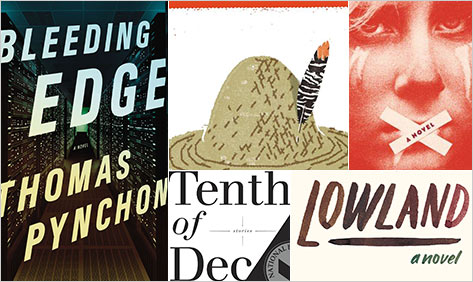 In this space for the past four years, I've described and evaluated the National Book Award fiction finalists before the winner was selected. Two months ago the judges announced a long list of ten books that was reduced last month to five works. Between the two announcements, experiments reported in Science demonstrated what fiction writers and readers have assumed all along — that reading literary fiction has a positive effect on social perception, emotional intelligence, and empathy. Immersed as I was in the latest crop of entrants for literary laurels, I wondered: What if the five judges used these personal and social benefits as an important criterion when choosing a winner on November 20th? Which book would most increase empathy? Since, Science says, commercial fiction does not have the same effect, what would be the winner's distinctly literary methods?

The reported benefits issue from readers' understanding of characters — people unlike themselves, persons with mixed motives and conflicting emotions in confusing situations, individuals presenting subtle psychological markers — and, presumably, from readers' understanding of when and how and why they empathize. But what about the authors? When would the relationship between readers and authors instruct and improve empathy? Here I'll abandon what science might say and offer my own prescriptive answer — influenced by finalist Rachel Kushner's The Flamethrowers, which begins with a young woman attempting a new speed record on an experimental motorcycle. I think readers have or, speaking as a novelist now, should have their capacity for empathy enlarged by riding along with daredevil authors, those who risk their writing lives to advance the art of fiction, who choose dangerous subject matter, chance frightening off readers with unpopular ideas or unconventional styles, and drive beyond their own comfort zones in earlier books. Kushner's protagonist hits a wind shear and crashes. No matter, better the author's "splendid failure" that Faulkner praised than modest success.

A former NBA fiction judge and now an NBA junkie, I read all of the books on the long list, which is new this year. I'm happy to report that the judges left out of the final five several works that were brimming with empathy but lacking in adventurousness. Unfortunately the judges also excluded the novel that would have been my pick for the award, so I'll comment on it — don't scroll now — after my mini-reviews of and samples from the books that can actually win. Having correctly picked the winner — the daredevil novel Let the Great World Spin — only one of the last four years, I like the "splendid failure" of selecting this time around a work that can't take the prize.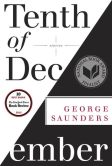 Before George Saunders' collection of stories Tenth of December was published in the winter, it was hailed as "the best book you'll read this year" in The New York Times and was then widely praised for its compassionate treatment of folks who, in his word, suffer from "paucity" — of intelligence or education or sanity, of economic success or family happiness, of language to express their emotions. Despite or because of their limitations, Saunders' characters are powerful empathizers. The first and last stories present self-risking rescuers: a boy neurotically trapped in his parents' rules breaks them to save a girl from rape, a middle-aged man with brain cancer interrupts his suicide to save a schizoid boy from hypothermia. In the longest story, "The Semplica Girl Diaries," a debt-ridden father feels sorry for a daughter who will have no birthday party:
Poor Lilly. Her sweet hopeful face when tiny, wearing Burger King crown, and now this? She did not know was destined to be, not princess, but poor girl. Poorish girl. Girl not-the-richest.
No party, no present. Possibly no pic of cheetah in IOU. Could draw cheetah but might then think she was getting camel. Or not getting camel, rather. Am not best drawer. Ha ha! Must keep spirits up. Laughter best medicine etc., etc.
From this bathetic realism, Saunders shifts to the providential fantastical: the father wins the lottery and arranges to have four immigrant women suspended on a rack in his front yard to impress neighbors and please his daughter. This sudden and dead-pan shift represents the shortcomings of Saunders' fiction: his use of extreme situations and crazed characters who are easy to pity — if one is not sharing a secret laugh with the author at their expense ("Laughter best medicine"). Run across in a glossy magazine, the primer-style stories seem unusually "natural." Read and re-read together, they betray their contrivances and routines. The author comes to resemble the man in "My Chivalric Fiasco" who takes the drug "KnightLyfe," automatically becomes empathetic with everyone, and speaks artificially. Tenth of December does not advance Saunders' craft, only his career as a short-order Vonnegut.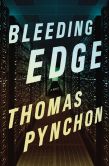 Thomas Pynchon has said Saunders tells "just the kinds of stories we need to get us through these times," so it's no surprise that Bleeding Edge is a maximal version of Saunders' fabrications. Of the thirty or so characters who appear in the novel, only Pynchon's focal figure — Maxine Tarnow, New York fraud investigator and mother of two young children — is allowed enough history and behavior to elicit much empathy. Below is the wised-up Maxine responding to an obvious male villain:
"You want to hire me? For money? Or were you planning to rely on charm?"
He finds a pair of tortoiseshell Wayfarer clones in his coat pocket and covers his eyes. Finally. Smiles, with that precision mouth. "Am I that much of a bad guy?"
"Oh. Now I'm supposed to help him with his self-esteem. Dr. Maxine here. Listen, a suggestion, you're from D.C., try the self-help section at Politics & Prose — empathy, we're all out of that today, the truck didn't show up."
Tough-talking Maxine, no Dr. Ruth or Jewish mother here, learns to sympathize with even this shaded avatar of the Pynchonian "They," but the growth of her emotional intelligence plays only a small part in a novel overloaded with pointless plot proliferations, implausible or stereotyped heavies, and unoriginal Manhattan local color. So Bleeding Edge has to rely on its 200l history: for menace, the rise of the Internet, and for empathy, the fall of the Trade Towers. Pynchon displays his usual techie expertise but flunks 9/11, treating it distantly and perfunctorily as he pushes along his detective comedy to its happy family ending. "Nothing so loathsome as a sentimental surrealist," Pynchon says in Gravity's Rainbow. Bleeding Edge isn't loathsome. But lacking a hard edge, it is gravitas-defying and strangely genial given the "atrocity" it includes. I hate to disagree with another Barnes & Noble Review writer, but that most daredevil of novelists in his early works is not in Bleeding Edge "rollicking" along into the now but lumbering backward to the goofball self-indulgence of his last novel, Inherent Vice.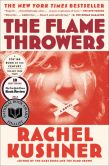 "Signs are taken for wonders," Eliot wrote in "Gerontion." The levity of Saunders and Pynchon is not levitation; devil-may-care is not the same as daredevil. Rachel Kushner's The Flamethrowers is no "wonder" but is the most intellectually and culturally ambitious of the finalists, for she invents the twentieth-century history of an Italian motorcycle company, Moto Valera, so she can depict 1920s Futurists and 1970s political terrorists in Rome. In between are '60s and '70s New York anarchists and artists, including the sculptor Sandro Valera. Continuity is provided by a more than plucky protagonist, a recent grad filmmaker called Reno, who crashes a Valera in Nevada, lives with Sandro in New York, listens to him pontificate, observes his theory-gibbering friends, and then, on a trip to Italy, leaves Sandro and lives with young gun-toting radicals who may have kidnapped Sandro's brother. Reno is an appealing narrator, but, like the Futurists, Kushner's characters are more concerned with objects — motorcycles, Sandro's aluminum boxes, guns — and abstractions than with subtle or profound emotional attachments. In the following passage, Reno is watching a woman in a film who resembles Reno observing her elders:
Gazing at department store mannequins as if they possessed something essential and human that she lacked. Mannequins were carefully positioned to look natural, looking off in this direction or that but never at us. This was part of the Sears Mannequin Standard….If the mannequins made eye contact with shoppers they would disrupt the dream, the shopper's projection. A mannequin's job was to sell us to ourselves in a more perfect version for $19.99.
The woman peered at the mannequins for guidance. Examining
 their enameled makeup, a purse dangling from a stiff arm, a pole supporting each life-size figure from behind, disappearing into a hole cut into the rear seam of her slacks. They each have a pole up their ass, says the sudden wryness in the woman's face.
Art "had to involve risk, some genuine risk," Reno thinks at the novel's beginning. Kushner's gamble is wryly treating her eccentric characters like objects, like "enameled" mannequins, so that Reno can eventually recognize the "pole up their ass," their inhumanly fixed positions. The Flamethrowers takes its title from Italian soldiers in World War I whose weapons made a dramatic show but were impractical. Kushner employs her risky method of character portrayal to examine inflammatory twentieth-century activities — technological, political, artistic, erotic — more dedicated to thrills than to social improvement or personal empathy. Although I admire Kushner's spunk and range of knowledge, her high-heat sentences, and her mockery of artists who burn with Pater's "hard, gem-like flame" but produce little, Kushner implausibly retards Reno's developing maturity. Because Reno is slow to judge those who use her, Kushner has plenty of time to include set pieces that fill out the novel's thematics but sometimes downshift this work about speed into low gear. I, personally, wouldn't object to a fiction obsessed with objects (rather than people) receiving the award, but if judges really did use empathy training as a criterion The Flamethrowers would probably be found wanting, too cool and collected.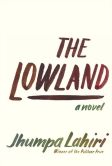 Jhumpa Lahiri's The Lowland is also a bi-national novel stretching over many decades and including revolutionary youths, but Lahiri is more traditional in her treatment of intimate human relations. Subhash and Udayan are inseparable Hindu brothers growing up in 1950s Calcutta. After Subhash leaves for graduate study in the United States, Udayan makes bombs for a communist party and is killed by the police. Subhash returns to India, takes pity on Udayan's pregnant widow, Gauri, marries her, and brings her to Rhode Island where she is a miserable mother, Subhash is a devoted father, and their daughter Bela hates both of them after her mother walks out. Lahiri follows their lives and records their thoughts until Subhash and Gauri are in their sixties. In the following passage, Gauri thinks about why raising her daughter is "not bringing meaning to her life":
In the beginning she'd told herself that it [meaning] was like a thing misplaced: a favorite pen that would turn up a few weeks later, wedged between the sofa cushions, or discreetly sitting beneath a sheaf of papers. Once found, it would never be lost sight of again. To look for such a misplaced item only made it worse. If she waited long enough, she told herself, there it would be.
But it was not turning up; after five years, in spite of all the time, all the hours she and Bela spent together, the love she'd once felt for Udayan refused to reconstitute itself. Instead there was a growing numbness that inhibited her, that impaired her.
Everyone will love Subhash. Lahiri's challenge and accomplishment are in her teasing out readers' empathy for her initially unlikeable, more complex women. But The Lowland is so insistently conventional — in its omniscience and low-key style, in its depiction of teeming Calcutta streets and empty American suburbs, family skeletons and criminal secrets, immigrant pleasures and assimilation anxieties, generational conflicts and tearful resolutions — that I felt little sympathy for the novelist as creator, as inventor of novelty. Lahiri has settled for (as Gauri did not) the traditional role and comfortable home of the immigrant writer, the multigenerational chronicle. The Lowland is the kind of almost lowbrow novel — earnest, transparent, endearing but undaring — that often wins the Pulitzer Prize, but National Book Award judges can do better.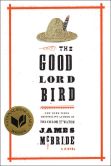 In 1996 Jane Smiley published a provocative essay asserting that Uncle Tom's Cabin was superior to The Adventures of Huckleberry Finn, the sentimental novel better than the comic bildungsroman. The Lowland is in Stowe's tradition; James McBride's The Good Lord Bird is Huckleberry Finn's African-American cousin. Huck temporarily wore a dress to get information. McBride's protagonist, Henry Shackleford, an adolescent slave in Kansas, passes as a girl for three years to avoid going into combat for abolitionist John Brown, who liberated and adopted him. "Henrietta" can also get away with living in a whorehouse, spying on slavers for Brown, and manipulating dimwits "she" meets on her quest for freedom. Like Brown the murdering moralist, Henry/Henrietta is a several-sided character who initially elicits responses oscillating between empathy and antipathy.

Near the novel's end, Henry is infatuated with Brown's daughter, Annie, who is taking him north under a load of hay. When Henry realizes he forgot to tell a password to "Captain" Brown, thus endangering the attack at Harpers Ferry, Henry has, like Huck with Jim far down the river, a crisis of conscience. Understanding both Brown's madness and goodness, Henry discovers an empathy that turns a girl into a man:
The thought of the Captain getting deadened on account of me made me feel ten times worse than Annie not loving me, which if she'd'a knowed what I was, she'd'a been disgusted with me, a nigger, playing a girl, not man enough to be a man…. And I'd have her father's blood on my hands the rest of my life, laying there like a coward under the hay and not being a natural man, man enough to go back and tell him the words that might help him live five minutes longer, for while he was a fool, his life was dear to him as mine's was to me, and he'd risked that life many times on my account. God damn it to hell.
In a parallel situation, Huck says he'll save Jim and go to hell. McBride dares the devil by telling the life of Brown — from Kansas in 1856 to Harpers Ferry in 1859 — in the language of an illiterate narrator. Like Brown, McBride will suspend action to quote copious Bible verses against religious hypocrites. Like the Russell Banks of his Brown novel, Cloudsplitter, McBride knows his mid-nineteenth century, its savage particulars and ugly politics. And like that equal-opportunity provocateur Ishmael Reed, McBride has no compunctions about combining low comedy and high dudgeon to attack icons such as Frederick Douglass. But mostly McBride is unlike the other finalists because of the dangers he courts: turning an American classic upside-down while improving its careless plotting, treating the satanic peculiar institution and its saintly peculiar opponent in a humorous context. A slave tells Henry, "Every nigger got the same job…to tell a story the white man likes." Not everyone, white or black, will like the audacity of The Good Lord Bird, but I think McBride deserves the award. He probably won't get it. More than two decades have passed since a comic novel won. Perhaps this year's judges will summon some courage and recognize The Good Lord Bird, a work of conflicting empathies, artistic daring, and pointed pleasure.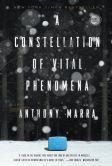 And now the finalist that should have been: Anthony Marra's novel A Constellation of Vital Phenomena. The title is the definition of "life" in a Russian medical dictionary and a description of Marra's narrative structure — isolated yet connected stories about life-and-death matters in war-ravaged Chechnya during the early years of this century. The book is also a constellation of finalists' virtues: Kushner's knowledge of violence and her vivid sentences, Lahiri's understanding of how politics and cultural difference can destroy families, McBride's presentation of moral conundrums with mother wit.

The people of Chechnya and even the invading Russian soldiers are, says a character, "victims of absurdism," but Marra's novel is no pity party. Yes, all citizens are scratching to survive in a collapsed infrastructure where the sale of rubble is a growth industry. Marra's characters, though, are particularized victims — of evasion they might call stupidity, of guilty altruism, of their betrayal of others. A man informs on his friends so his father can get needed insulin, and the father almost kills the son for his charity. As individuals' secrets are revealed and stories intertwined, the village where most of Marra's characters live becomes an empathy experiment, the novelistic equivalent of a scientific thought experiment, for both characters and readers.

The village doctor, Akhmed, rescues his friend Dokka's eight-year-old daughter, Havaa, after Dokka is disappeared and his house burned down. Akhmed takes the girl to a hospital in a nearby town, where he offers to work if the director (and only remaining doctor) Sonja, will keep the girl, now hunted by the Russians. Although traumatized into cynicism by the suffering she treats and the disappearance of her sister, Sonja agrees to shelter Havaa — and Marra's five-day plot begins. What compromises and sacrifices will the Chechen Akhmed and ethnic Russian Sonja have to endure to save this one girl? Will they succeed? Into his suspense narrative Marra interjects the adults' histories and other villagers' back stories, as well as accounts of the Chechen people who were all victimized when Stalin removed them, like Havaa, from their homes and land.

While still in the village, Havaa watched her companion Akim die and constructed a memorial that an adult named Natasha thinks is a scarecrow:
Too young to explain in words, the girl's face was old enough to show the loss that was that name. Natasha, not understanding what this meant, was briefly annoyed, believing it profligate to expend pity on a scarecrow when there were more deserving life forms, but of all people, who was she to judge how a girl disburses her empathy. She wrapped her arm around Havaa. The whole of the girl's bony shoulder fit in the cup of her palm, and the girl reached up and held on to her fingers. If Akim could have seen the two of them, he would have taunted them for weeks.
Although the Chechens in the novel are all scarecrows, Marra, like Akim, distrusts sentimentality in his disbursing of empathy. The author doesn't mock, but his characters do as they contest the absurdism of their situations with Beckettian banter, inventive curses, Sisyphean buffoonery, and gallows humor. An aged nurse considers "illness and injury as the practical jokes of a God wheezing with laughter." Because Marra's humor is even bleaker and blacker and riskier than McBride's, more like late Twain than Huckleberry Finn, the humor may puzzle readers unused to wit in the ruins. The hazard of sentimentality is also reduced by Marra's constellation structure; his interruptions of the imperiled-child plot prevent readers from too intense an emotional investment in its outcome.

I'm not claiming that Marra's humor and structure make him the Evel Knievel of fiction, but I do believe Marra's novel is superior to the finalists because — in addition to the qualities I've mentioned — it is meta-empathetic, a sophisticated experiment that requires readers to think about how and with whom they empathize, maybe victimizers as well as victims. If you dare having your strongest emotions elicited, then reversed, then possibly modified again, then maybe even judged by a novel, read A Constellation of Vital Phenomena, a failed finalist and splendid success.