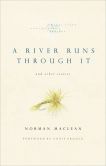 My father was very sure about certain matters pertaining to the universe. To him, all good things — trout as well as eternal salvation — come by grace and grace comes by art and art does not come easy.

–from Chapter 1 of A River Runs Through It; Norman Maclean was born on this day in 1902
One article included in the 2008 Norman Maclean Reader is a talk Maclean gave in 1979 at a conference on "Who Owns the West?" The talk uses a key incident in A River Runs Through It to demonstrate Maclean's approach to fiction writing, as practiced in his work and in his teaching career, and as taught to him early in his father's homeschooling classes:
In this first collection of my stories, I wanted to show what men and women could do with their hands and heads in the world of the woods before bulldozers, "cats," and power saws started doing it for them. I wanted to preserve glimpses of people at work when I was young, partly because they might be worth preserving as small pieces of both the history of the West and the history of art. To me, what men and women can do with their hands and heads is often as beautiful as mountains and can be more so.… One of the compliments I appreciated most about "A River Runs through It" came from a doctoral candidate in biology here at the University who sent word to me that he considered the story "A River Runs through It" one of the finest manuals yet written on the art of fly-fishing in the Northwest.
---
Daybook is contributed by Steve King, who teaches in the English Department of Memorial University in St. John's, Newfoundland. His literary daybook began as a radio series syndicated nationally in Canada. He can be found online at todayinliterature.com.