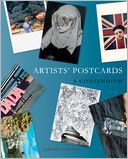 Sometimes magnificent visual art takes root in the humblest of soils. Advertisements painted on old barns, tattoos, fruit crate labels, hot rod embellishments — all these media and many other non-galleried forms have hosted and fostered esthetic delights that satisfy any rigorous definition of art. In Jeremy Cooper's expansive, eye-popping new history of the humble postcard in the hands of artists, appropriately titled Artists' Postcards, we see that this small pasteboard canvas has played its own large role in the history of twentieth-century art.
Cooper's explanatory text is as illuminating and creative as the hundreds of bright, surprising, stimulating images that accompany it.
He begins with a general introduction in which he outlines the range and types of postcard art: its fusion of text and graphics; the contrast between one-of-a-kind productions and commercial batches of cards; the various impulses among different creators; the role of the governmental postal services as handmaiden to the art; and the parallel national expressions of the art form, with an emphasis on UK and USA production.
He then segues into a history of artists' postcards by chronological era. The initial period covered is everything "pre-1945." Given that the first postcard is generally deemed to have appeared in 1840, this period seems to represent a vast topic. But really it's the smallest, since the notion of applying techniques of détournement to the familiar means of penny-stamp holiday communications had not yet really penetrated the consciousness of very many artists.
The next chapter covers 1945 to 1980, and it's arguably the richest and most exciting era, a foundational period heroically limned by Cooper's extensive and knowledgeable arraying of artist biographies and landmark works. The invention and spread of mail art, the rise of creative communal enterprises like Fluxus, and the general thrilling air of expansion into new realms of often subversive expression — all these vivid themes power this discussion. Dealing with the contemporary scene, Chapter 3 — while chronicling many refinements and innovations and extensions of the art form, and holding out promise for the future — seems by contrast a little less exciting.
One of Cooper's main contributions to the study of this art form is his intelligent categorization of postcard art into several different modes. First comes original artwork reproduced and disseminated in postcard format. Next comes mass-produced cards that are reworked with paint, whiteout fluid, scissors, etc. Collaged cards are another rich subset — to my mind, the most creative and alluring. Take a look at the work of Michael Langenstein on page 195, for instance. There are cards whose reason for being is purely graphical and textual, with the writing component being uppermost, especially if it consists of a personal message to the recipient. Cards can be issued in sets, or as part of press kits. Full-scale canvases can incorporate bits of literal postcards, or employ postcard imagery. Cards can accumulate their power through sheer volume — Aleksandra Mir created 100 Venice-themed postcards in editions of 10,000 apiece, many of which got mailed by attendees of the Biennale in 2009 — or by virtue of being a one-off, such as Geneviève Sellé's A Book of Travels I Never Did. Finally, actual postcards can be arrayed into assemblages and then displayed in museum settings.
The postcard, inherently democratic and lowbrow, is transfigured by the touch of these artists. And while there is a definite anti-establishment, from-the-streets streak among many of the creators, which Cooper acknowledges, he does tend to valorize the high-art aspect of the practice, as if to reassure us of the real value of the art form. This entirely defensible and not really bothersome stance is still evident by his omission of a couple of artists who have done significant postcard-themed work, albeit of a bestseller kind. We hear nothing of Nick Bantock and his Griffin and Sabine trilogy, nor of Bruce McCall and his wonderfully humorous Serious Nonsense postcards. (Though he does give a worthy nod to Glen Baxter.) But perhaps these trivial omissions merely help to convey what a sprawling and extensive miniaturist empire we behold.
---

Paul Di Filippo's column The Speculator appears monthly in the Barnes & Noble Review. He is the author of several acclaimed novels and story collections, including Fractal Paisleys, Little Doors, Neutrino Drag, and Fuzzy Dice.