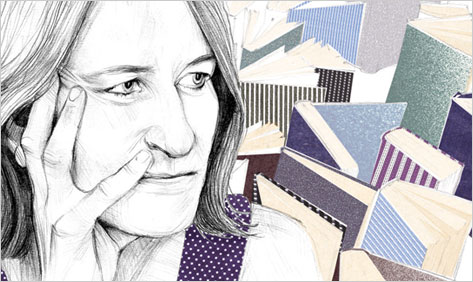 Memoirs by children of the famous too often amount to little more than a litany of pain, loss, and abandonment, and there is plenty of all these things in Kaylie Jones's new memoir (Lies My Mother Never Told Me, new from William Morrow); but there is more than that to this fascinating and horrifying tale. Jones was the daughter of the novelist James Jones (author of From Here to Eternity, among other well-known books) and his glamorous, witty wife Gloria, and grew up in Paris and the Hamptons among the literary stars who made up the Jones's social circle. James Jones died in 1977 from heart disease, exacerbated by years of heavy drinking, when his daughter was a vulnerable seventeen years of age; Gloria eventually descended into severe alcoholism, dying a gruesome death in 2006 of cirrhosis of the liver. The memoir focuses on Kaylie Jones's losing battle to save her mother-or failing that, to free herself from her clutches — and on her own more successful struggle with alcohol.
Some family memoirs rise to the level of real works of art in their own right. It has to be said that Jones's does not-she is too blinkered by residual rage, and by hero-worship of her long-defunct father to see things really clearly. (If James Jones had lived a few more years, his daughter might have realized that he, and not only Gloria, had his share of faults.) Still, this is a harrowing tale with considerable narrative power.
Reading it made me curious about Kaylie Jones's fiction, so I turned to Celeste Ascending, a novel that originally appeared in 2000 (now in paperback from HarperCollins Perennial). Knowing, as I now did, the outlines of Jones's own life, it was easy to see the autobiographical elements in the novel, but Jones has woven them into a story with a life of its own, focusing on the time-honored theme of a young woman's ascent to an independent, if precarious life. Her heroine Celeste, emotionally damaged by losses she cannot quite comprehend, becomes engaged to Alex, a successful, conventional, and controlling man who seems like a safe haven but turns out to have very serious issues of his own. Like so many of her role models among the older generation (mother, stepmother, et. al.), Celeste turns to alcohol to avoid facing her troubles, until she has finally to make the choice of becoming like them or of cultivating the self, the soul, she scarcely knows. Like Lies My Mother Never Told Me, Celeste Ascending is not perfect, being both too immature and too romantic for a forty-year-old writer. But again, it has a real narrative pull and is overbrimming with emotion.
I do not often read literary criticism for pleasure; but there are a few critics whose work I gobble up, and one of them is William Pritchard, a long-time professor at Amherst College who has published several essay collections as well as full-length books on Robert Frost, John Updike, and Randall Jarrell. On Poets and Poetry (Swallow Press) brings together Pritchard's essays on poets as various as Dryden and Stevens, Hardy and Betjeman, Larkin and Wordsworth, Housman and Pound, all in the author's characteristically elegant and attractive prose.
"If there is a single principle holding these essays on poets and poetry together," Pritchard writes, "it is that style needs to be attended to, not just at the beginning of our reading but continuously, and that readers should invest in an engagement, sometimes a prolonged one, with the surface of a poem-with its events that can be seen and heard as they reveal themselves over time." Pritchard concentrates on technique, the particular skills that each poet applies to achieve apparently magical effects, and in doing so proves the truth of Hugh Kenner's claim that "The chief requisite for criticism is not analytic skill but a trained sensibility."
I have noticed recently that Penguin Classics has expanded its list, indicating a rather broader concept of just what it means to be a "classic." It is gratifying to see that John Buchan (1875-1940), for many years a special favorite of mine, has made the cut; Penguin's publication of The Strange Adventures of Mr Andrew Hawthorn & Other Stories is especially welcome, bringing together a number of delectable short stories that have long been out of print.
Today Buchan (who also had an impressive career in politics and the British civil service, culminating in a five-year tenure as Governor-General of Canada) is best-known for his sublime thriller, The Thirty-Nine Steps (better, believe it or not, than the movie Hitchcock very loosely based it on) and its sequels Greenmantle and Mr Standfast, but he penned thirty novels and more than sixty non-fiction books. The stories in this collection were published between 1896 and 1932: as Buchan's fellow-Scot Giles Foden writes in his introduction, "London's Stock Market and clubland feature in a couple of them, but their true terrain is the Scottish moor-or its analogues in Alpine peak, African savannah and Canadian tundra." Buchan's fresh, declarative style and his ultra-masculine worldview have gone far out of style; all the more reason, then, to pick up these tales and remind ourselves why they were so popular in their era, and how much they still have to contribute to ours.
Surprisingly enough, Buchan is not included in The Penguin Book of Gaslight Crime (edited by Michael Sims), but a host of other worthies are here, from the wonderful Grant Allen (represented by "The Episode of the Diamond Links") to E.W. Hornung ("Nine Points of the Law") to George Randolph Chester ("Get-Rich-Quick Wallingford").
"The moment I envision a gaslight lamp," Sims comments, "the special-effects department in my brain surrounds it with London fog. Then it cues the rattle of a hansom cab across cobblestones and the whinny of a horse….In these pages our own daily world fades away: no television, no jet planes, no computers. Escapism? Of course. Can it be that we are nostalgic for an era that none of us experienced?" Well, of course it can. I thoroughly enjoyed Sims's collection, which consists mostly of light-hearted capers and thefts, and am delighted that these tales, some long-forgotten, have unexpectedly been afforded the status of "classic."