Heavenly reading.
---
By Philip C. Plait
Throughout history, the study of astronomy has been much maligned — decried as witchcraft, persecuted by the clergy, co-opted by fortunetellers. And this isn't just an ancient phenomenon: a surprising number of people still believe the moon landing was faked and Galileo went blind from looking at the sun for too long. Sonoma State University astronomy professor Philip C. Plait is fed up and aims to set the record straight in entertaining fashion. This book is one small step for popular science, one giant, hilarious, and extremely informative leap for myth-busting kind across the universe.
---
By Dava Sobel
Dava Sobel illuminates the human drama behind momentous scientific discoveries in works like Longitude, and her new book, A More Perfect Heaven, examines how Copernicus arrived at his heliocentric theory. Though he reached the conclusion that the earth orbited the sun and not the other way around in the early 1500s, Copernicus hid his manuscripts for 30 years until a young German mathematician urged him to set the record straight. This is their story, the partnership of a reluctant genius and a young man who hoped to pioneer the scientific equivalent of Luther's Reformation. Once you finish Sobel's book, your next stop should be The Age of Wonder, in which the astounding discoveries of William Herschel and his sister Caroline are at the heart of an equally magical true story.
---
By Thomas Hockey
Who needs a telescope? Certainly not the forefathers of astronomy, who made their revolutionary deductions using nothing more than careful observation with the naked eye. Now you too can look to the firmament from this island earth and pick out more than just the Big Dipper and Orion's Belt. Though light polution may have dimmed the visible pantheon of stars, there's still plenty to see with author Hockey's help. And once you've mastered the art of star-gazing sans equipment, expand your knowledge of the heavens with the definitive Norton's Star Atlas, now in its 20th edition, a work of cartography whose brilliance is apparent even by daylight.
---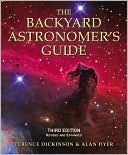 The Backyard Astronomer's Guide
By Terence Dickinson and Alan Dyer
Packed with jaw-dropping images of celestial phenomena that look more like impressionist art than masses of star stuff, Dickinson and Dyer's essential guide for the home astronomer offers invaluable advice to take your hobby to a whole new level of professionalism. Here you'll find expertise on what equipment works best under different conditions, how exactly computerized telescopes work, and even how to take digital photographs of what you're observing through a scope. Perhaps most important: a thoughtful guide to help the first-timer choose between essential viewing aids and frivolous — not to mention costly! — gadgets.
---
By Carl Sagan
Before Stephen Hawking, there was Carl Sagan. The Pulitzer Prize-winner played host to more than 500 million viewers who tuned into his PBS program "Cosmos" over the years to learn about astronomy. But Sagan — whose astrophysics work earned him a place advising the Apollo astronauts before takeoff — was no mere television spectacle. The book that accompanied the program offers a masterful overview of science's past, present, and future, combining astronomy and philosophy in a broad consideration of the universe and our place among the heavenly bodies. It is the best-selling science book ever published in English and remains an awe-inspiring voyage into the vastness of space and time.