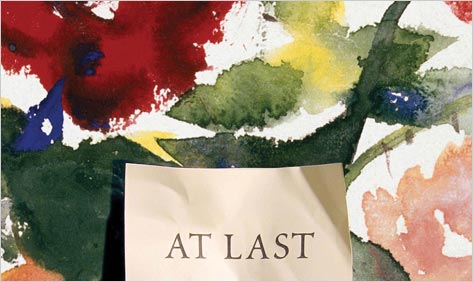 The first thing you will want to know about At Last, the final volume in Edward St. Aubyn's five-novel cycle starring Patrick Melrose, is that, yes, you really do have to read the preceding four if you want to appreciate it fully. The second is that if reading about wealthy, conceited, selfish, dissipated, cruel, monstrously awful people is not for you, then, alas, neither are these novels. The third is that the books are brilliant. They are also highly idiosyncratic: Each installment is both a comedy of manners and a wrenching psychological investigation; each oscillates between satire and tragedy, and all are written with flash and brio, ornamented by inspired simile, and spangled with mordant, Wildean wit.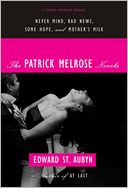 The first four novels have just been published in one paperback volume, beginning with Never Mind, a title of apt and dismal pathos. Here we meet Patrick Melrose, five years old and living in a château in Provence with his parents. His alcoholic, drug-befuddled mother, Eleanor, is an American heiress to some part of a dry-cleaning fortune, and it was that attribute that had captivated Patrick's sadistic English father, David. Trained as a doctor, he abandoned his practice upon marriage — though, we are told, "there had been talk of using some of her money to start a home for alcoholics. In a sense they had succeeded."

The novel takes place over one terrible day and night, during which — and I must reveal this, as it is pivotal to the entire series — Patrick is raped by his father. While it is happening, the boy manages to disassociate himself from the event, seeing himself perched above the scene, mentally escaping his body. This split — between being there and not being there, between immediacy of experience and fending it off — bedevils Patrick from then on in every area of existence. That breach and his efforts to repair or at least bridge it, through drugs, alcohol, sex, and tormented self-examination, make up the cycle's shattering theme.

As for Patrick's mother, Eleanor: she is unmindful of everything but pills and booze, charitable causes, and the sure prospect that her husband will humiliate her, publicly if possible, at every opportunity. Absent from home the morning Patrick was attacked and oblivious to it, she later pauses, while writing a check to the Save the Children Fund, to consider Patrick's subdued demeanor, marveling "at how well her son had turned out. Perhaps people were just born one way or another and the main thing was not to interfere too much." Patrick's fear and confusion, Eleanor's obtuseness and self-involvement, and David's viciousness and "nimbus of insanity" provide the atmosphere amid which a dinner party is staged. The guests, characters we will meet again in following volumes, introduce us to the first principle of the decadent British upper caste: Nothing is so insufferable as a bore.

In this view, or, rather, under this obsession, a bore is a person who is genuinely tedious — and there are some terrifically funny representatives of that species in these novels — but a bore is also a person who cares about things. The surest defense against being branded a bore is to avoid the appearance of sincerity or compassion and to display a certain outrageousness. As David contemplates his violation of his son at this novel's conclusion, he reflects, "He must try not to do it again, that really would be tempting fate. David could not help smiling at his own audacity."

Bad News, the second novel, is not exactly a breath of fresh air. Patrick is now twenty-two and a heroin addict (with a sideline in Quaaludes, amphetamines, cocaine, and alcohol). He is in New York, having received news that his father has died there. Eleanor, now divorced from her tormenter and even more devoted to charitable works, is not on the scene. Patrick has to deal with the body's cremation and, more pressingly, with replenishing his drug supply. He is a mess: needle-scarred and bruised, his psyche a tangle of anxiety, hatred, and self-loathing. The pain is excruciating, the comedy ghoulish: Storming down the street carrying his father's ashes, he realizes that "it was the first time he had been alone with his father for more than ten minutes without being buggered, hit, or insulted."

Some Hope brings us Patrick at thirty, his past lying "before him like a corpse waiting to be embalmed." He lives in London, free of drugs and drink but more than ever engaged in an interior battle with the demons of the past: with his father, and, to an extent, with his mother, who, for all her ceaseless do-gooding, failed to protect her own son. The novel was meant to complete an intended trilogy, and it does end with Patrick finding a certain amount of peace — and some hope. Aside from that, it is enormously funny, the story organized around an elaborate, snob-infested country house party, a scene of social striving and mortification — the guests, among them Princess Margaret, are described with glorious malice.

With Mother's Milk, Patrick Melrose breaks free of the trilogy and emerges as a married man with two children, though — need it be said? — he is back in a state of "agitated despair." He is drinking again, can't sleep, and has a slight problem with Tamazepam, "namely that it wasn't strong enough. The side effects, the memory loss, the dehydration, the hangover, the menace of nightmarish withdrawals, all that worked beautifully. It was just the sleep that was missing." His troubles are further compounded by the fear that he will pass on his dark and riven consciousness to his children, just as his parents passed on their own sickness of soul. Meanwhile, Eleanor, who, we learn, may not have been entirely ignorant of Patrick's father's abuse, is in the process of disinheriting her son. She is handing over her estate in Provence to a New Age charlatan, a smarmy back rubber and would-be shaman who has set up a "Transpersonal Foundation" on the premises.

Profiting from the three-book foundation upon which it is built, Mother's Milk is a triumph, once again both gruesome and funny. There are wonderful comic set pieces, including a dreadful family vacation in New York City. But the grim work of psychological excavation also continues, this time with Eleanor as its chief object, as Patrick considers the machinations by which the weak exercise their grotesque tyranny. But something new has entered the picture: the children, two little boys, bringing with them an element of sweetness and genuine love.

And so we come to At Last: Patrick is forty-five, and his mother has died: With both parents gone, he feels that he has "been waiting all his life for this sense of completeness." But even as he pats his mother's coffin "as an owner might pat a winning race horse," we see that things are not splendid. He has given up drink but is also separated from his wife and children — and he is also still mystified and tormented by the chaos of his psyche.

How, I sense you wondering, can this still be interesting? It really is: not only because St. Aubyn is so entertaining a writer but because of the increasing philosophical depth he brings to the story. As Patrick delves deeper and deeper into the mystery of memory and identity, we wonder with him if they are, in fact, the same thing. And if so, the urge to escape is, in his case at least, irresistible — if not through drugs and drink, then through irony: "Forget heroin," he tells a former mistress, "Just try giving up irony, that deep-down need to mean two things at once, to be in two places at once, not to be there for the catastrophe of a fixed meaning."

And yet Patrick's unwinding story never really loses this double nature, its devotion to pain and the comedy that only partly holds it at bay. St. Aubyn's own experiences inform these novels, and his unhappy circumstance no doubt endows Patrick's with its sense of urgency and anguished intensity. But whatever the author's actual state of mind has been or is now, its expression in art is a complete success.