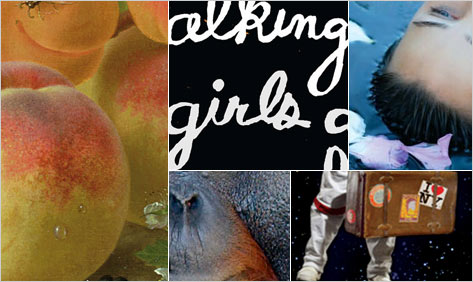 We tend to hear a lot about "beach reads" at the beginning of the summer, when long afternoons in the shade of an umbrella seem almost within reach. But for many of us, daily distractions continue to fill the hours through June and July—until we find ourselves facing the doggy side of August without having taken our hoped-for reading respite.

And yet: it's still summer. The hammock still beckons. The water's still warm. And in the meantime more good reading than you could fit in a suitcase has been waiting, patiently, for you to take a moment for yourself. Here are a few books our reviewers have particularly recommended lately: go ahead, pick one up.
---
By Allegra Goodman
Our reviewer Heller McAlpin savored every bite of Allegra Goodman's novel, which borrows flavors from Jane Austen but delivers something all Goodman's own: "A delectable mix of intelligence, relevance, wit, romance, moral complexity, bibliophilia, dot-com startups, and family secrets." In many ways, this new offering from the author of Intuition is one of the standout novels of the year.
---
By Beth Raymer
Some books lead the lives we wish we could, and Stefan Beck points to Beth Raymer's tale of her unlikely career among high-rolling sports gamblers: "It's a memoir, but not in the sense we're accustomed to; it's less about Raymer than it is about the misfits with whom she surrounds herself and works: Las Vegas-based pro gambler Douglas 'Dink' Heimowitz; his frugality-challenged wife, Tulip; Long Island bookie Bernard Rose; and more boxers, spivs, wheedlers, goons, loose women, degenerates, and wannabes than a whole sagging shelf of crime fiction."
---
The Thousand Autumns of Jacob de Zoet
By David Mitchell
Exotic, transporting adventure? Brilliant historical detail? Doomed romance? Cloud Atlas author David Mitchell delivers just that in this tale which, in the words of Paul La Farge, "features deception, betrayal, love, theft, war, graphic depictions of midwifery and kidney-stone removal, games of cards, billiards and go, as well as a daring raid on a mountain abbey where unspeakable practices are, well, practiced, to sustain the life of the monks."
---
By Mary Roach
She's written lively books about cadavers (Stiff), what happens when we die (Spook), and the curious relations of science and sex (Bonk). Now Mary Roach has looked up to the heavens to write what Paul DiFilippo calls an often hilarious yet scientifically sound book explicating and justifying the concept of a 500-day mission to Mars—and all the sacrifices and novel expertise such a mission would entail. Roach "brings a gonzo sensibility, a fluid prose style and a keen eye for absurdity to her reporting on 'the curious science of life in the void.'"
---
By Peter Quinn
One of the last century's most beguiling mysteries—the disappearance of Judge Crater in Jazz Age New York—gets a brilliantly hard-boiled treatment in this crime novel by Peter Quinn that harkens back to classic tales of detectives in over their heads. Matthew Battles notes: "One of the pleasures of historical fiction depends on the author's skill in interweaving the fabular and the factual—knitting into the tangled skein of acts and things a single golden thread of story…. Quinn works his jaded dicks and dames with scores to settle quite intimately into that weave, where they sparkle and gleam. Their tics and hangups tell us what we need to know not only of their characters, but of their times as well."
---
By William Dalrymple
You'll meet many remarkable figures in William Dalrymple's fascinating exploration of India's religious landscape, as Brooke Allen points out in her admiring review. Take Hari Das the theyyam dancer. He's "a Dalit (Untouchable) who works for nine months out of the year as a lowly well-digger and prison guard and then, during the theyyam season, becomes an incarnate god, worshipped and propitiated by the Brahman bigshots who in normal times will not even let him take a drink from the wells he digs for them lest he pollute their homes." If you like travel writing and haven't read Dalrymple, you're in for a special treat.
---
By Richard C. Morais
Romance is our columnist Eloisa James's beat, but she knows food, too, and in her eyes Richard C. Morais's novel sets an enchanting table: "The Hundred-Foot Journey is written from the point-of-view of Hassan Haji, an inspired cook who can see in a woman's locks, for example, 'an intricate cocoon of finely spun threads, translucent in the light, as if a chef had taken a blowtorch to sugar and woven threads of candied filaments through her hair.' This is a novel in which every moment, every observation, speaks to the way food doesn't merely nourish, but enchants."
---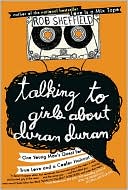 Talking to Girls About Duran Duran
By Rob Sheffield
We spoke last month with Rob Sheffield about his wry memoir of coming of age and listening to the hits of the '80s. Interviewer Bill Tipper noted "Sheffield […] makes the past sing—and sometimes play guitar solos on a dry-ice-befogged stage—with a memoir that traces his awkward teenage years, yearning toward grace and girls, through the era that still haunts karaoke bars across the land. In a series of comic and touching vignettes, Flock of Seagulls, Hall & Oates, The Human League and even Haysi Fantaysee appear as the collective Virgil who guide a nervous Boston Irish boy through the Inferno of adolescence."
---
By Lauren Henderson
Connoisseur of crime Sarah Weinman cast her eye over a recent set of smart mysteries featuring teenage protagonists. Lauren Henderson's new novel stood out as one of the most riveting: "In Kiss in the Dark, Scarlett's back at the … school run by her steely grandmother, ready for romance with her new boyfriend, when old nemesis Plum Saybourne arrives with nuclear impact. The school's against Scarlett, her best friend Taylor is acting strangely and there's another murder on school grounds that ties in unexpected ways with the mysterious deaths of her parents."
---
By Thomas French
Journalist Thomas French picked "an auspicious time" to document the evolution of a Florida zoo, noted Barbara Spindel in her review of Zoo Story. "In elegant, occasionally lyrical prose, [French] presents the experience of the zoo from the perspective of the visitors, the overworked, underpaid employees, and, as much as possible, the animals themselves, particularly Herman, a gentle chimpanzee, and Enshalla, a regal Sumatran tiger." The result is a story that involves both new life and tragic death, and dramatizes both the brutal and humane faces of the modern zoo.