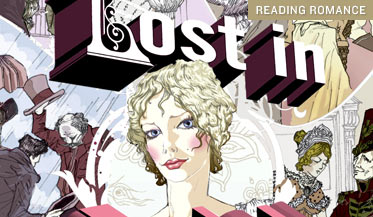 Essay by Eloisa James

I grew up in a house without romance. Before you leap to conclusions about my parents' marriage or our illiterate household, I should say that the house was full of books, though none of them were romances. My father, Robert Bly, is a poet, and so the house was full of slim, lyrical volumes, piled up on the tables and filling the bookshelves. One of my favorite childhood memories involves my father's best friend, Donald Hall (now poet laureate of the U.S.), losing his temper over a gross poetic injustice and throwing a whole plate of spaghetti at my father, who promptly returned the favor. Spaghetti hung from Dad's right ear as he howled a rebuke. Poetry was serious business. There was a hierarchy to literature and life, and poetry was at the top of it; romances were nowhere to be found.

But even so, Jane Austen's novels snuck into the house under the guise of literature, and I gobbled them up. I read Pride and Prejudice over and over, rewriting the novel in my head: my Elizabeth, for example, would have been much snappier during Darcy's first proposal scene. Even as I became a Shakespeare professor, the idea of rewriting Jane stayed with me. But it wasn't until I recently wrote an afterword for Pride and Prejudice that I realized just how much my romance writing career owes to Austen. My work is all set in Regency England, when Austen wrote, and my very first romance, Potent Pleasures, features an irascible hero with a strange likeness to Darcy. My passionate engagement with Austen as a teenager led to a productive, if revisionary, engagement with her work later in life.

Obviously, I'm not alone. Not only are Regency romances hitting the top of the New York Times bestseller list, but romances that pull directly from Austen's life or work are everywhere. The novels that I'll talk about in this column would be a particular pleasure for anyone who thinks Colin Firth looks best in a high collar, but you needn't have read Austen recently, or at all, to enjoy them.

A particularly creative version of the rewriting impulse is Emma Campbell Webster's Lost in Austen, which offers a clever, wandering journey through Pride and Prejudice, structured like a game. The reader begins with a set number of points in Accomplishments, Intelligence, Confidence, Connections, and Fortune. The goal of reading (naturally) is to marry Darcy. Reader decisions direct one to different pages: "Go to Page 67: You accept Mr. Crawford and are wed soon afterward. You have not been married long, however, before he elopes with Mrs. Hurst?. The End. You have clearly failed your mission." The reader travels with a sharp-tongued girlfriend at her shoulder. For example, when Darcy proclaims Elizabeth "tolerable; but not handsome enough to tempt me," the narrator says, "Oh dear. You pretend not to care, but you do. Deduct 10 Confidence points." I spent a good deal of time being scolded: "You're not even trying; your Persuasive skills are abysmal. No wonder your father didn't listen to you when you advised him not to let Lydia go to Brighton. Deduct 100 Fortune points." For a passionate lover of Pride and Prejudice, this odd novel is pure joy. I finally did wrangle my way into marrying Darcy, though I had several false starts and once was run over by a carriage driven by Miss Bingley.

Paula Marantz Cohen takes a more direct tact; she simply rewrites an Austen novel. Her Jane Austen in Scarsdale: Or Life, Death and the SATs replays Persuasion in a modern key. Cohen's heroine, Anne, was persuaded to give up her charming, feckless boyfriend, Ben, years ago. She's a single, slightly faded high school guidance counselor when Ben reappears, having made a fortune since they parted ways. We know the end as well as we know Austen. But this is a delightful, at times very funny, modernization of Persuasion. I frequently forgot about the source and when I remembered, was dazzled by the similarities. A la Austen, the romance is chaste, and yet deeply romantic. "What is your type?" Anne asks Ben at the end of the novel. "I don't have a type. It was just you."

A number of authors rewrite not Jane's work but Jane herself. Syrie James's The Lost Memoirs of Jane Austen takes as its premise the discovery of Austen's memoirs, bricked up behind a wall for decades. James does a clever job of presenting the memoir as if it were a scholarly edition, footnotes and all. Jane's diary describes falling in love with Mr. Ashford, a rather modern hero, in that his primary characteristic is his fervent support of her writing and his wish to "feel love beyond reason." The author's obvious affection for her heroine makes the reader wonder if she will adhere to the historical record and send Jane to an early, unmarried death. I'm not going to ruin the end, but I will say that the book was great fun to read: romantic, detailed, learned, and charmingly written.

Another adroit use of Jane Austen's time period is Laurie Viera Rigler's Confessions of a Jane Austen Addict. After a binge of Austen reading fueled by heartache and Absolut, Courtney Stone wakes up in the body of a 19th-century woman, Jane Mansfield (though to her disappointment, without the bust such a name might imply). The pleasure here lies in the utter contrast between Courtney's rather vulgar personality and the life of a young English lady. For example, on discovering that the original Miss Mansfield may have been flirting with a servant, she wonders: "Is he cute? Does he have some kind of blue-collar magnetism like Joe, the carpenter who spent a month earthquake-retrofitting my building and another three walking around my bedroom wearing nothing but a tool belt?" She gradually relaxes into her role, though she has trouble with Regency conventions and gets somewhat hysterical upon meeting Jane Austen. Rigler nimbly brings together Courtney's growing love for the Darcy-like Mr. Edgeworth with her acclimatization to place and time, so the final note, from the Diary of Mrs. Charles Edgeworth, is entirely convincing in its Regency-speak.

Alexandra Potter's Me and Mr. Darcy is another example of time-traveling chick lit. Emily Bront? Hemingway Allbright escapes a dreary social life by signing up for a guided tour of Jane Austen country. The trip turns out to be on the tedious side, enlivened only by a scowling English journalist, Spike, also on the tour. But things improve when Emily gets lost in an old house and meets a man with intense, velvety brown eyes who introduces himself as Mr. Darcy. He disappears, but later she finds herself with Mr. Darcy again. After a few more encounters, Emily gets beyond her surprise: "If I were to have one teensy-weensy criticism of Mr. Darcy, it would be that he can be a little too intense?. But of course I'm being ridiculous. This is Mr. Darcy. He doesn't do chitchat; he broods and smolders and strides around setting pulses racing." Potter manages Emily's growing romance with Spike, a modern Darcy, with a great deal of skill. Spike tells Emily that he's fallen for her by laying out the reasons why he initially disliked her: "I didn't fancy you in the slightest?if I'm honest, I thought you were a bit dull." Spike's email to explain himself after their screaming fight? Think Darcy's letter and you have the idea.

I'll end with a final Austen offshoot: Lori Smith's A Walk with Jane Austen: A Journey into Adventure, Love & Faith. Like Potter's heroine Emily, Smith flees a boring social life by going on a Jane Austen pilgrimage and falling in love with a stranger. But rather than fiction, Smith's book is a lyrical memoir circling around her fiercely beloved Austen, her Christianity, and the man she meets in Oxford. Writing in her own voice, Smith sometimes sounds uncannily like Austen: "I am afraid that my own failures, like Anne's, have been more of personality rather than morality." Like each of the books mentioned in this column, A Walk with Jane Austen speaks directly to the author's deep love of Austen: "I hope that somehow this proximity to Jane's life will make me understand my own." Yet since these novels are all romances, it might be accurate to characterize them by quoting Potter's Emily: "To be honest, I blame Mr. Darcy."

I could blame Mr. Darcy too — for being a shadow at the shoulder of all my own heroes, for leading me to a husband whom I could easily imagine striding around Pemberley (though I must say that that his manners are far better than Darcy's).