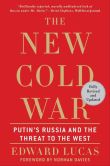 In response to ultimatums from the USSR, Lithuania refused to renounce its newly declared independence on this day in 1990. President Gorbachev responded with sanctions and eventually military action, but by August 1991 most other Soviet republics had also proclaimed their independence, and the USSR was officially dissolved four months later.

Lithuania was the first of the republics to formally break away from the crumbling USSR. As with Russian intervention in Ukraine today, the USSR justified its strong-arm tactics in Lithuania as an attempt "to protect the rights of ethnic Russians." In The New Cold War: Putin's Russia and the Threat to the West, Edward Lucas argues that today, "twenty years after Mikhail Gorbachev started dismantling communism, Russia is reverting to Soviet behavior at home and abroad":
Putin's supporters like to say that Russia is now free of ideology. The country simply pursues a commendably hard-nosed realpolitik. From this point of view Putin is just a tough patriot doing a good job for his country, who dislikes the dominion of the Western-run international order.… This argument ignores the explicit rejection by the Russian regime of Western values such as political freedom, the rule of law, the separation of powers, a free press, and individual rights.
Though written in 2008, The New Cold War seems to specifically foretell the present Ukraine crisis:
Russia has also been stoking discontent in Crimea. This region of Ukraine combines several potentially explosive elements. Sevastopol in particular is a naval citadel as dear to Russian hearts as Portsmouth or Plymouth are to the British, or Pearl Harbor to Americans. A Russian naval lease is due to run out in 2017. Ukraine would like Russia to leave early, and pay a higher rent. Russia shows no sign of wanting to leave at all. The population includes many ultra-loyal Russians, mostly holding Russian passports, who are wholly unreconciled to Ukrainian rule. A further threat is increasing Islamist sentiments among the region's indigenous, but now marginalized, Tatar population.
---
Daybook is contributed by Steve King, who teaches in the English Department of Memorial University in St. John's, Newfoundland. His literary daybook began as a radio series syndicated nationally in Canada. He can be found online at todayinliterature.com.