The art, science, and struggle of teaching and learning.
---
By Jay Matthews
The inspiring, important, and compelling story of how two young educators turned their personal failures in the Teach for America program into a new classroom paradigm, creating the acclaimed Knowledge Is Power Program (KIPP), which today includes 66 schools in 19 states
---
By William Howard Armstrong
A genuinely helpful series of essays on the acquisition, maintenance, and employment of study skills, this invaluable book offers lessons on listening, the efficient use of time, attentive reading, the practice and purpose of tests, and more. The author is a fine guide to the development of effective mental habits.
---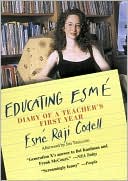 Educating Esme: Diary of a Teacher's First Year
By Esme Raji Codell
Affectionate, unconventional, imaginative, fearless, Esmé was only 24 years old when she got her first job teaching fifth grade in an inner city school. Determined that her kids were going to learn, she let nothing — not dim-witted principals, abusive parents, gang members, or her own insecurities — stop her.
---
By Paul Tough
Paul Tough reports on Geoffrey Canada's creation of the Harlem Children's Zone, a 97-block segment of New York's inner city that the impassioned educator has turned into a laboratory to work on the grandest of social experiments: breaking the intractable cycle of poverty and poor academic achievement.
---
By Joe Miller
This extraordinary account of Kansas City Central High School's debate team is perfectly summed up by its subtitle: "The Amazing True Story of How the Most Unlikely Team from the Most Unlikely of Places Overcame Staggering Obstacles at Home and at School to Challenge the Debate Community on Race, Power, and Education."