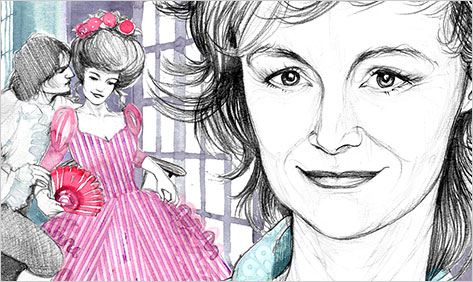 Romance writers are constantly accused of being derivative. Perfectly nice people are prone to enquiring where I "found the formula," as if a golden recipe were out in the garden waiting for a rainbow to touch down. Like any other genre, including literary fiction, the best romances are boldly original, and the poorest are indeed formulaic. Every author — Shakespeare included — begins with a genre of some type, and reshapes its conventions in his or her own voice. This fierce reformulation is perhaps most clearly visible, and fascinating, when the author is obviously toying with beloved aspects of a given literary type. The five novels I discuss below tackle genres from the gothic romance to the hard-boiled detective novel, wittily rethinking convention to arrive at new hybrids.
In Bed With the Duke is Christina Dodd's first historical in four years — and her pleasure at being back is obvious, as she plunges into a swashbuckling adventure in which Robin Hood meets The Scarlet Pimpernel. The romance is set in an exotic little country called Moricadia, where Miss Emma Chegwidden has been hired as a lady's companion to the horrible Lady Lettice, who sits "like the queen toad on her lily pad with her suitors swimming like guppies around her." Emma's adventures include being fired by Lady Lettice, sharing a house with the handsome Michael Durant, heir apparent to the Duke of Nevitt, and encountering the masked and menacing Reaper, who gallops about the country engaging in obscure but worthy deeds, while scaring the pants off proper young ladies. Three stars for guessing the Reaper's relation to Michael Durant! Dodd has a wonderful time depicting the dashing Durant, the malevolent Prince Sandre, the intrepid Emma — yet in the midst of wolves, ghosts, and evil henchmen, Michael and Emma's love affair has all of Dodd's trademark combination of sweetness and sensuality. You may not quite believe in Moricadia, but you will surely succumb to this hilarious, over-the-top, deeply passionate tale.
Kerrelyn Sparks's The Vampire and the Virgin comes at Béla Lugosi by way of Buffy and Twilight, not to mention the thousand vampire novels published in the last five years. Yet the problem with revisiting the virgins encountering mysterious vampires plot (outside the bounds of black-and-white film, at least) is the current scarcity of virgins in their twenties. After all, Buffy and Bella were adolescents. Sparks dances around the problem by turning her heroine, Olivia Sotiris, into something of a human lie-detector, an unenviable trait when it comes to romance. Olivia can tell when her dates are fibbing — and, apparently, men on the prowl are remarkably prone to dishonesty. Sparks serves up a hilarious concoction that brings Olivia — who happens to be an FBI psychologist — together with Robby MacKay, a vampire warrior with PTSD who has chosen an island vacation rather than an appointment with a Vamp therapist. Here's where Sparks starts toying with the vampire myth, for while the Béla Lugosi vampire, with his aura of dark, impenetrable mystery, comes across as a little creepy these days, it's different if the aura is the resut of Olivia's unexpected inability to read the "undead." Robby is literally the very first mysterious, impenetrable man she's ever met. Resisting the obvious joke on penetration, I shall conclude merely by saying that The Vampire and the Virgin offers a fresh, funny, downright romantic reinvention of the virgin-meets-vampire plot.
If Sparks plays with the myth of the naïve virgin, Teresa Medeiros has just as much fun toying with the myth of the woman who is Fairest of Them All, back when knights are still roving around Britain. Her medieval romance pits Holly de Chastel, the woman reputed to be the most beautiful in all England, against a burly Welshman, Sir Austyn of Gavenmore, who wins her hand in marriage at a tournament. Wanting to be loved for herself rather than her beauty, Holly concocts a plan to turn herself from fairest to homeliest. However, rather than being horrified at his bride's padded, splotchy appearance, Austyn is happy, since he's under a curse that only triggers if he falls in love with a beautiful woman. Medeiros does a marvelous job of showing that Holly's beauty is as much a curse as the one that threatens Austyn. Her revisited fairy tale is a delightful pleasure that will put a foolish grin on your face — especially when Austyn declares that his beloved Lady Holly has "the fairest heart in all of England."
Erica Ridley's debut novel, Too Wicked to Kiss, is one of the wittiest returns to the gothic since Jane Austen made fun of Miss Catherine Morland in Northanger Abbey. But Ridley seems more interested in revitalizing the genre than parodying it. Her Evangeline Pemberton arrives at a house party given at Blackberry Manor ("Black, like Lionkiller's soul, and berry because he's going to bury us back in the garden with the rest of the bodies") tremblingly ready to succumb to the vapors. But even as Ridley gleefully piles on a gaunt butler, secret passageways, and a hero, Gavin Lioncroft, whose "eyes glittered like those of a wolf loping alongside a lonely carriage," the novel entrances with its elegant, clever writing — and with the passionate love affair between Gavin and Evangelina. Far from being a swooning by-stander, Evangelina turns out to have a powerful paranormal gift and, more importantly, the backbone to stand up to Gavin's bad reputation and profound guilt. Too Wicked to Kiss is a brilliant example of an author staking out a by-gone genre and remaking it in her own image.
In Don't Kill the Messenger, Eileen Rendahl tackles the hard-boiled detective novel. Rendahl's tough-talking detective, Melina Markowitz, is actually a Messenger — a go-between for all those supernatural creatures who are scooting around Sacramento unbeknownst to the rest of us. Rendahl creates a wildly creative alternative world, introduced by Melina's wisecracking, sardonic voice: "Since I was three years old, dead people have stopped by to have chats with me." There are two men in Melina's life, a gorgeous (vampire) doctor, and an equally gorgeous (human) cop. When some bad ninjas steal one of Melina's messages, she's honor-bound to get it back, even when the surfer-dude cop, Ted Goodnight, keeps interfering (to say nothing of the exertions of the delicious Dr. Bledsoe). The tough, lusty Melinda is enchanting, and the world she inhabits is both familiar and dazzlingly original, like a Sam Spade plot whose characters have passed through a funhouse mirror.
I've never yet figured out how to (politely) answer the question of where I found my formula. It could be that the best way is simply to carry around these five novels, giving them out as object lessons in how originality springs from the bones of convention.
---
If you'd like to discuss romances that revisit and reshape an older genre — those in the column or your own favorite examples — please stop in to chat with Eloisa James in the Romantic Reads Book Club, where she'll be joined by the authors from this column. Please do check out Eloisa's past columns in the Archives, and if you'd like to get her reaction to romances as she reads them, follow her on Facebook or Twitter. If you'd like a peek at Eloisa's own romances, please visit her web site at www.eloisajames.com.
And don't forget the Barnes & Noble daily romance blog, Heart to Heart , where the fabulous Michelle Buonfiglio chats about the hottest news in the world of romance, from favorite authors to scorching love scenes.