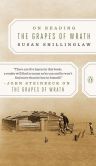 We come back to this novel because the Joad family plight as well as the generalized migrant woe revealed in the interchapters fold into even larger stories, both national and international: dispossession, power, land use, the interconnections of humans and other species, the suffering of many who can't tell their own story.

And we come back to this book because Steinbeck asks us to open our hearts: "And here's a story you can hardly believe, but it's true," he writes in one interchapter, recounting the tale of a family of twelve forced off their land: They built a trailer — they couldn't afford a car — and hauled it to the side of Route 66 and waited. A man in a sedan stopped, hitched up the trailer, and pulled it all the way to California, five of the family riding with him in the car, seven in the trailer. How did that family by the side of the road have faith that someone would pick them up? the authorial voice asks. "Very few things would teach us such faith."

It's a haunting thought. Steinbeck brings readers to such faith, faith in our own species.
–John Steinbeck's The Grapes of Wrath turns seventy-five today, the novel first published on this day in 1939; the excerpt above is from the commemorative volume On Reading "The Grapes of Wrath," by Susan Shillinglaw, director of the Center for Steinbeck Studies at San Jose State University
---
Daybook is contributed by Steve King, who teaches in the English Department of Memorial University in St. John's, Newfoundland. His literary daybook began as a radio series syndicated nationally in Canada. He can be found online at todayinliterature.com.