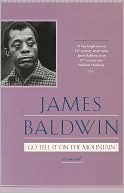 November 11: Onthis day in 1948 twenty-five-year-old James Baldwin left the United States on aone-way plane ticket to Paris. The aim of the move was partly to enjoy beingpart of "The New Lost Generation," as one of Baldwin's essays wouldlater describe those expat years. But the primary goal was to become a writer,and when Baldwin returned to the U.S. three-and-a-half years later it was todeliver the manuscript of Go Tell It onthe Mountain, the autobiographical novel which, he said later, made notonly fame but mental health possible: "Mountainis the book I had to write if I was ever going to write anything else."
Baldwin grew up in Harlem poverty, his father unknown, hisstepfather an unbending, Pentecostal preacher with a cruel streak, and withmental problems for which he would eventually be committed to an institution.He scorned Baldwin's bookishness, and liked to tell him that he was as ugly ashis mother; any signs of homosexuality would have provoked a fundamentalist'sintolerance. In an effort to both repress his own personality and to triumphover his tormentor, Baldwin became a minister in his stepfather's FiresidePentecostal Assembly at the age of fourteen, and for three years was his rivalin the pulpit. Titled "Crying Holy" and then "In My Father'sHouse" in draft, Go Tell It on theMountain was an attempt to tell and be released from this past. In itsclimactic scene, Baldwin's hero, the fourteen-year-old John, comes of age inthe only manner available to him, by escaping his preacher father and beingborn again on the church "threshing-floor." The novel's finalparagraphs take place at sunrise, the sun "waking the streets, and thehouses, and crying at the windows":
And he felt his father behind him. And he felt the Marchwind rise, striking through his damp clothes, against his salty body. He turnedto face his father—he found himself smiling, but his father did not smile.

They looked at each other a moment. His mother stood in thedoorway, in the long shadows of the hall.

"I'mready," John said, "I'm coming. I'm on my way."
---
Daybook is contributed by Steve King, who teaches in the English Department of Memorial University in St. John's, Newfoundland. His literary daybook began as a radio series syndicated nationally in Canada. He can be found online at todayinliterature.com.