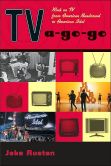 American Bandstand debuted on this day in 1957. While not the first television dance party, the Philadelphia-based show was the first to be broadcast live, daily, and nationally. The show "signaled the arrival of teenage culture in the mainstream" (Thomas Hine, The Rise and Fall of the American Teenager), and the lip-synching guests turned living rooms across the nation into sock hops:
…'Cause they'll be rockin' on Bandstand
In Philadelphia, P.A.
Deep in the heart of Texas
And 'round the Frisco Bay
All over St. Louis
Way Down in New Orleans
All the Cats wanna dance with
Sweet Little Sixteen….
(Chuck Berry, "Sweet Little Sixteen")

Not everybody was invited to the party, says Matthew F. Delmont in The Nicest Kids in Town, his recent study subtitled "American Bandstand," Rock 'n' Roll, and the Struggle for Civil Rights in 1950s Philadelphia. Despite Dick Clark's claims to the contrary, the early years of his show "reinforced, rather than challenged, segregationist attitudes," by way of a marketing formula that "depended on both the creative energies of black performers and the erasure of black teenagers."

In TV-a-Go-Go, a history of rock's half century on television, Jake Austen agrees that American Bandstandwas segregationist in its early years, and that Clark's guests and song list too often reflected his personal and business ambitions rather than real talent — at least until ABC, alarmed by Clark's cronyism and conflicts of interest, ordered him to give up either Bandstand or his music industry interests:
He agreed to do the latter and sold off his numerous companies. Stripped of his music holdings over the ensuing years, he only had his television production companies, real estate, a booking agency, a cosmetics line, lucrative tours for his Dick Clark Caravan of Stars, some Arby's franchises, radio stations, a Dr. Pepper distributorship, a film production company, and oil wells to comfort him.
But Austen credits American Bandstand with breaking down ethnic and gender barriers. And from the get-go-go, says Austen, television has always treated rock as a business commodity, "presenting to the kids of America their own music only after coloring it with a tint of artifice darker than Dick Clark's hair dye."
---
Daybook is contributed by Steve King, who teaches in the English Department of Memorial University in St. John's, Newfoundland. His literary daybook began as a radio series syndicated nationally in Canada. He can be found online at todayinliterature.com.