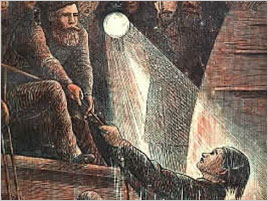 Mark Twain's "Old Times on the Mississippi," a series of sketches abouthis days as a cub river pilot, were published by the Atlantic in seven monthly installments beginning in January, 1875.Though not quite his debut there, the Atlanticsketches are regarded as Twain's entry to the East Coast literaryestablishment. Immediately pirated by the major newspapers, they also helpedconsolidate Twain's fame across the U.S., as they did across England whenpublished there in 1877 as Mark Twain'sMississippi (a detail from the cover appears at left).
The "Old Times"sketches also consolidated Twain's lasting relationship with Atlantic editor William Dean Howells. InMy Mark Twain (1910), Howells claimsthat, in fact, the clubbish Boston-New York literary crowd never really warmedto his friend. "I cannot say just why Clemens seemed not to hit the favorof our community of scribes and scholars," confides Howells, "…but itis certain he did not, and I had better say so."
The rejection was puzzlingfor Twain also, no more so than after his most celebrated shunning, an 1877banquet in honor of John Greenleaf Whittier's seventieth birthday. Because "OldTimes" and then Tom Sawyer hadTwain riding a wave of international fame, he had been asked to speak at theprestigious affair, attended by such other great and triple-named as RalphWaldo Emerson, Oliver Wendell Holmes, and Henry Wadsworth Longfellow. This wasa literary Mount Rushmore into which Samuel Langhorne Clemens no doubt hoped tocarve a place. But it was also the sort of event that brought out Mark Twain'sidol-toppling spirit.
The yarn Twain decided tospin describes the stormy night he was forced to seek refuge in an oldprospector's lonely log cabin. The prospector reveals that just the nightbefore Emerson, Holmes, and Longfellow had also come by, and their drinking,card-playing, and pompous self-quoting had stretched his frontier hospitalityto the breaking point:
…However,I started to get out my bacon and beans, when Mr. Emerson came and looked on awhile, and then he takes me aside by the button-hole and says:

"Giveme agates for my meat;

Giveme cantharides to eat;

Fromair and ocean bring me foods,

Fromall zones and altitudes."

SaysI, "Mr. Emerson, if you'll excuse me, this ain't no hotel." You seeit sort of riled me; I wasn't used to the ways of littery swells.
When Longfellow steps in,chanting from "The Song of Hiawatha," he also gets the hook:"Begging your pardon, Mr. Longfellow, if you'll be so kind as to hold youryawp for about five minutes and let me get this grub ready, you'll do meproud." After a full night of Emerson, Holmes, and Longfellow trying toout-drink and out-rhyme each other, and now Twain threatening more of the same,the prospector decides to pull up stakes: "I'm agoing to move—I ain'tsuited to a literary atmosphere."
The newspapers, Howells,and many guests reported that Twain's irreverence was received in open-mouthed,plate-staring silence by all present. Years later Twain was still amazed"that they didn't shout with laughter, and those deities the loudest ofthem all."
---
Steve King contributes Daybook to the Barnes & Noble Review and teaches in the English Department of Memorial University in St. John's, Newfoundland. His literary daybook began as a radio series syndicated nationally in Canada. He can be found online at http://www.todayinliterature.com.