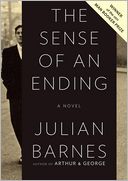 Julian Barnes was born on this day in 1946. When in his mid-thirties, Barnes was featured in Granta magazine's "Best of Young British Fiction" issue. If this did not exactly launch his career, it certainly put him in good company, the other writers on the Granta list including Martin Amis, Ian McEwan, Salman Rushdie, and Graham Swift. Barnes's Flaubert's Parrot was published the very next year, and some two dozen books have followed, most recently The Sense of an Ending, winner of the 2011 Booker Prize.

Some early interviewers struggled to classify Barnes's mixed-genre books, one literary magazine describing his "subversion of all conventional taxonomic boundaries" as the best of the Young Guns rather than the Young Brits:
INTERVIEWER: You belong to a generation of writers who will do anything in their power, form and content (technical and emotional experiment at all costs) to shock, confuse, render the reader helpless. These I have called "Desperadoes." Do you feel you relate to the description of the group and to the label?

BARNES: Well,…I'm rather surprised to be called a Desperado. I rather like the description (who wouldn't?) but you make us (if there is an 'us,' which I'm skeptical about) sound like a gang led by Clint Eastwood….
If Barnes's narrators can sometimes be standoffish — "I see the novelist at the stern rail of a cross-Channel ferry, throwing bits of gristle from his sandwich to the hovering gulls" (Flaubert's Parrot) — they can sometimes be chummy. Here is Gillian, one of several narrators from Love, etc., sharing some of her "etcetera" with the reader:
Our sex life is…friendly. Do you know what I mean? Yes, I can see that you do. Perhaps all too well. We're partners in the act. We enjoy one another's company in the act. We do our best for one another, we look after one another in the act. Our sex life is…friendly. I'm sure there are much worse things. Much worse.

Have I put you off? He or she beside you has had their light out for some time now. They're doing that breathing which is meant to sound like sleep but doesn't really. You probably said, 'I'll just finish this bit,' and got a friendly grunt in reply, but then you read on a bit longer than you thought. But it doesn't matter now, does it? Because I've put you off. You don't feel like sex any more. Do you?
---
Daybook is contributed by Steve King, who teaches in the English Department of Memorial University in St. John's, Newfoundland. His literary daybook began as a radio series syndicated nationally in Canada. He can be found online at todayinliterature.com.