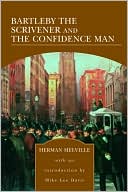 Herman Melville's "Bartleby, the Scrivener: A Story of Wall Street" appeared on this day in 1853, the first part published in the November issue of Putnam's Monthly, with the second part in December. After describing his business — "that of a conveyancer and title hunter, and drawer-up of recondite documents of all sorts" — and his other employees, the narrator introduces his new scribe, the "pallidly neat, pitiably respectable, incurably forlorn" Bartleby. For three days, Bartleby seemed the picture of industry, "copying by sun-light and by candle-light… silently, palely, mechanically." And then, having decided to flee rather than occupy Wall Street, Bartleby shocks his boss with perhaps the most famous 'No' in the American short story:
…Imagine my surprise, nay, my consternation, when without moving from his privacy, Bartleby in a singularly mild, firm voice, replied, "I would prefer not to."
I sat awhile in perfect silence, rallying my stunned faculties. Immediately it occurred to me that my ears had deceived me, or Bartleby had entirely misunderstood my meaning. I repeated my request in the clearest tone I could assume. But in quite as clear a one came the previous reply, "I would prefer not to."
"Prefer not to," echoed I, rising in high excitement, and crossing the room with a stride. "What do you mean? Are you moon-struck? I want you to help me compare this sheet here — take it," and I thrust it towards him.
"I would prefer not to," said he.
While allowing that Melville was as unusual and unknowable as his scrivener, biographer Andrew Delbanco (Melville: His World and Work, 2005) wonders if "Bartleby" reflects Melville's own fall into obscurity and withdrawal. Or perhaps, given Bartleby's earlier job at the Dead Letter Office, Melville had read a recently published story about a clerk employed there, sorting rooms of "undelivered love notes, locks of hair…lottery tickets and tickets for rail or ship passage, household keys, diamond ornaments" and other remnants. "Perhaps Bartleby had had such an encounter with the dead-endedness of life," says Delbanco, "and had thereby, as we would say today, 'gone postal' — no longer capable of sorting through his fingers the paper traces of a million ruined lives."
---
Daybook is contributed by Steve King, who teaches in the English Department of Memorial University in St. John's, Newfoundland. His literary daybook began as a radio series syndicated nationally in Canada. He can be found online at todayinliterature.com.