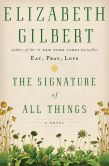 Dear Reader,

Transcribed almost verbatim from a pile of handwritten notes, a few of the forthcoming titles from Discover alumni…

If you haven't already, go meet Ruth Thomas, the wry and smart-mouthed heroine of Elizabeth Gilbert's debut novel, Stern Men (2000). Gilbert's absorbing new novel – her first in over a decade — The Signature of All Things (October), spans the 18th and 19th Centuries and explores questions of science and art.
The Discover selection committee readers and I love story collections (to put it midlly) – I reread Jhumpa Lahiri's masterful collection, The Interpreter of Maladies, every so often, and I'm always amazed to remember it was her debut. Her new novel, The Lowland (September), is a story of family and history she's always wanted to tell.
Bestselling author Terry McMillan returns in September with Who Asked You? an inimitable, multigenerational saga set in LA. Her second novel, Disappearing Acts, was one of our very first selections in 1990.


Before Little Children and The Abstinence Teacher, there was Bad Haircut, Tom Perrotta's 1994 Discover pick, a collection of linked stories featuring Buddy, a quintessential NJ teen growing up in the 1970s. His new story collection, Nine Inches, lands in September.
A haunted young man makes his way through the art underworld in The Goldfinch (October), the greatly-anticipated new novel from Donna Tartt, whose now modern classic, The Secret History, was also a 1992 Discover pick.
Daniel Woodrell, author of Winter's Tale and a 1992 Discover pick, The Ones You Do — now collected in The Bayou Trilogy with two other Detective Rene Shade novels — returns with a gritty story of a deadly dance hall fire in The Maid's Version. (September)
In Stiltsville (Discover 2010), Susanna Daniels interwined the story of Miami's coming of age with the demise of a marriage – she returns to Miami for her riveting new novel Sea Creatures (July), in which a mother must choose between her husband and son.
Herve Le Tellier author of 2011 pick Enough About Love — about forty-somethings whose lives are turned upside down by love — returns with Electrico W (June), in which a writer escapes to Lisbon to recover from a failed love affair.
At the center of Patricia Engel's debut collection of linked stories, Vida (Discover 2010) is the unforgettable and fearless voice of Sabina, the daughter of Columbian immigrants told though linked stories. In her new novel, a young Columbian woman must decide if she'll find her own way in the world – or her immigrant parents in It's Not Love, It's Just Paris (August).
The paperback of Jeremy Jackson's memoir, I Will Not Leave You Comfortless, lands in August. "Jackson writes about Missouri as the young Hemingway wrote about Michigan: with a clear eye; with hard-edged nostalgia; and (here's the thing) with brilliance," says Darin Strauss, author of Chang and Eng (Discover, 2000). Jackson's debut novel, Life at These Speeds, was a 2002 Discover pick.
Aminatta Forna follows up the blisteringly unforgettable story of her childhood in Sierra Leone, The Devil That Danced on the Water, a 2003 Discover 2003 selection, with The Hired Man (October), a novel reminiscent of Disgrace by J.M. Coetzee and Anil's Ghost by fellow Discover alum Michael Ondaatje.
Critic John Freeman looked at how email is changing our lives – not always for the better– in his debut, The Tyranny of Email (Discover 2009). We're completely immersed in his next book, a collection of interviews with many of our favorite writers, How to Read a Novelist, due in October.
Just the idea of a mix tape and all that it represents resonates deeply with those of us over-a-certain-age (No. Really, a playlist just isn't the same thing, people.), an ethos which Rob Sheffield captures perfectly in his heartbreaking memoir, Love is a Mix Tape (Discover, 2007). For those of you about to sing, we salute you: Sheffield's latest, Turn Around Bright Eyes: The Rituals of Love & Karaoke is out in August.
Author of What the World Will Look Like When All the Water Leaves Us (2009), Laura van den Berg – who Benjamin Percy calls "a damp-eyed sorceress who blends the mythological with the everyday, buoyant playfulness with lacerating sadness" returns with a new story collection Isle of Youth (November).

We've wrapped up our terrific selections for Fall '13 and we're reading for Holiday '13 now, but until we release those title lists, you might take a look at our Summer '13 picks and a few of our favorite paperback highlights here.
Cheers, Miwa
---

Miwa Messer is the Director of the Barnes & Noble Discover Great New Writers program, which was established in 1990 to highlight works of exceptional literary quality that might otherwise be overlooked in a crowded book marketplace. Titles chosen for the program are handpicked by a select group of our booksellers four times a year. Click here for submission guidelines.