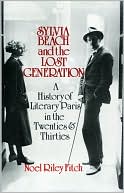 October 6: SylviaBeach died on this day in 1962. Her memoir Shakespeareand Company (1956)contains a series of charming anecdotes about life at her Parisian bookstore,hardly a day going by there without one famous modernist or another showing upto browse or chat. "My Best Customer" turns out to be the youngsports reporter Ernest Hemingway—"best" because Beach and herpartner, Adrienne Monnier, found him personable and engaging, and because heactually bought books instead of just thumbing them. Their friendship was nohighbrow, salon affair, Hemingway at one point becoming Beach and Monnier'sguide and tutor for a range of sporting events. "Our studies began withboxing," writes Beach:
Hemingway led us to the ring, a tiny one that you had to gothrough a sort of backyard to reach, and we found seats on narrow bencheswithout backs. The fights and our instruction began. When, in the preliminarymatches, the boys swung their arms around and bled so profusely that we wereafraid they were going to bleed to death, Hemingway reassured us….
[The] last fight led to another—in which the spectators participated. Opinionwas divided on the referee's decision; everybody got up on the benches andjumped down on each other—a real Western. What with the socking, the kicking,the yelling, and the surging back and forth, I was afraid we would be "Hemmed"in, and that Hadley would be injured in the melee. Calls for "Le flic! Leflic!" [the cop] were heard, but evidently not by the cop whose attendanceat all French places of amusement, whether it's the Comédie-Française or aboxing ring in Ménilmontant, is obligatory. We heard Hemingway's voice abovethe din exclaiming with disapproval: "Et naturellement le flic est dans lapissotière!"
A few paragraphs later, Beach tells ofHemingway reading to them from the stories which became In Our Time (his first major-press book, published eighty-fiveyears ago yesterday). They recognized his talent immediately, and declared hima future contender: "Maybe we didn't know much about boxing, but when itcame to writing—that was another thing. Imagine our joy over this first bout ofErnest Hemingway's!"
---
Daybook is contributed by Steve King, who teaches in the English Department of Memorial University in St. John's, Newfoundland. His literary daybook began as a radio series syndicated nationally in Canada. He can be found online at todayinliterature.com.