Love Rocks is a biweekly look at new self-published romance titles from the community at Rock*It Reads.
Summer brings those precious moments you can lie on a beach towel or sit in a lawn chair and read (while the kids are playing in the sand and no one is asking for a snack). For summer reading, I look for a book that makes me laugh or one that keeps me glued to the pages, gripped by the suspense.
Now that I'm a mom with kids, I don't want my suspense to give me nightmares about what could happen to my children. I want the page-turning experience, the rush of excitement, the thrill of following twists and turns…but I want to know there's a happy ending.
That's the beauty of romance and romantic suspense where I know I can count on an emotional thrill-ride, but one that leaves me feeling warm and glowing at the end, not devastated.
I'm a fan of the TV show The Mentalist and its quirky hero, Patrick Jane. I love the playful banter, sexual tension, and genuine emotion in Patrick's relationship with detective Teresa Lisbon. Sex and the Single Therapist by Marcia James is an indie romantic mystery that gave me all those winning elements. The humorous title tempted me to start reading. The laugh-out-loud opening scene endeared me to the intelligent, resourceful heroine right from the start.
Las Vegas sex therapist Ally Skye is in session with a septuagenarian couple when a hot police officer arrives. Detective Zack Crawford exudes "Old West lawman" as he questions Ally about her close friend Pam. Pam's cheating husband has been murdered and gentle seamstress Pam is the prime suspect. As Ally launches her own investigation to save her friend, the spunky sex therapist quickly becomes a thorn in protective Detective Crawford's side, at the same time showing how she is exactly the woman he needs.
Zack and Ally's romance is steamy, sweet, and tender. Filled with page-turning mystery, sizzling sexual tension, and wacky fun, "Sex and the Single Therapist" is the perfect summer read.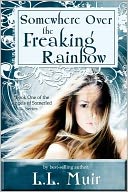 Sometimes I want suspense that's a little "off the grid". Not a police drama, but an unusual, keep-you-guessing story that captivates me in the way LOST captured audiences. Somewhere Over the Freaking Rainbow, a brilliant young adult book by L.L. Muir, is an amazing, gripping, delightful paranormal romance.
The suspense begins right on the first page and doesn't let up. High school student Jamieson Shaw has returned with his single mom from Texas to his grandfather's farm in Colorado, where the next door neighbors, a group known as the Somerleds, are "eco-nuts" who eat raw food and wear only natural clothing. Jamieson suspects they are a cult but his two friends believe they are aliens. Hiding in an ancient tree house, the three boys stake out the neighbors' cornfield. What they witness is beyond human possibility. When his friends disappear, Jamieson is determined to unravel the mystery of the Somerleds.
He wants the truth because he's crushing on one of his neighbors, Skye Somerled, a girl in his class. Her looks are ordinary, but to Jamieson, "she wore plain pretty well…One thing was for sure, though. She'd gotten his attention and he was never going to get it back." Jamieson's awareness of his attraction to Skye is exquisitely written. The teenagers' emotions are captured beautifully and intelligently. As we meet Skye in her point of view, the suspense builds. Skye is not what she appears. Who or what is she really?
The beauty of a well-written romance is that even though the reader knows there will be a happy ending, she can't see how the hero and heroine will ever attain it. Genuine obstacles confront Skye and Jamieson as the mystery unravels. The story also deals with how family wounds can be healed, and how cowardice and bravery can be defined. The ending is satisfying but will leave you hungry for the next book, and L.L. Muir's exceptional writing will keep you glued to every word.
Somewhere Over the Freaking Rainbow is romance at its best for both the young adult and adult reader. And now that my daughter has discovered the story, I don't know if I'll get my e-reader back until summer ends.
---
Sharon Page is a USA Today Bestselling author of historical romance. She is a two time winner of the Romantic Times Reviewers Choice Award, two time winner of the National Readers' Choice Award for Erotic Romance, and finalist for the Daphne Du Maurier Award for historical romantic suspense. Sharon's latest indie Regency romance, Escape with a Rogue, is an RT BOOKreviews Top Pick. Her website is www.sharonpage.com, and look for her at www.rockitreads.com.